WIN OUR NEXT BASS IR RELEASE FREE – PLUS 20% OFF CELESTIONPLUS.COM FOR THE REST OF THE YEAR!
Following the successful release of our PULSE10 & PULSE15 Bass speaker IRs last month – and the mountains of positive feedback we've been receiving – we now want to see you using your new Bass IRs!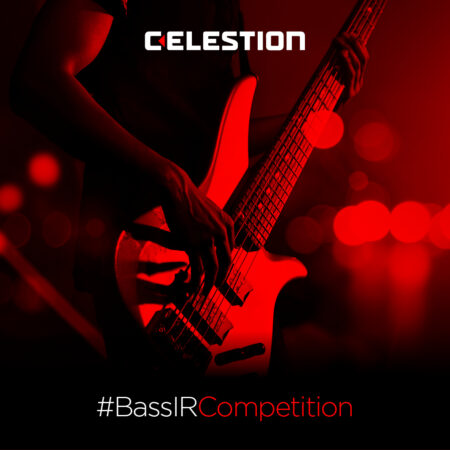 To enter the Bass IR Competition, simply upload a video of yourself to YouTube using either the Celestion PULSE10 or PULSE15 (or both!) Bass IRs and email a link to the video to digitalinfo@celestion.com. Easy!
Your videos need to be at least a minute long, but feel free to make them much longer! Extra points for creativity!
Enter as many times as you like – one video per entry.
The winner will be announced on March 31st and will receive our next Celestion Bass IR release for free, as well as a 20% discount on EVERYTHING from the CelestionPlus website for the rest of the year!
Our new range of bass speaker impulse responses include a number of options for bass players, featuring some of our best-selling bass guitar speakers. We've used the same painstaking capture process for these bass IRs as we use for our guitar speaker IRs. In particular, this meant selecting the most appropriate microphones for recording bass guitar.
Each speaker has been recorded in the most popular cabinet combinations for that speaker type, with three different microphones – a Sennheiser MD421, Neumann U47 FET and AKG D112 – each in six different positions (the same six positions used for recording our regular IRs) for additional tonal variety, creating an extensive IR library for each speaker.
Also included is a room mic recording using a Neumann TLM 107 (the same room mic used for our regular IRs).
In addition is an extra high frequency recording (using a Neumann KM84), which can be used on its own or mixed with one of the other microphones to add an extra bit of 'zing' to the top-end.
As usual, we've also included a selection of extra mic mixes for you to experiment with, including:
D112+KM84
U47+KM84
MD421+KM84
D112+MD421+KM84
U47+MD421+KM84
U47+D112+KM84
All mics
All mics+Room Stereo
All mics+Room Mono
Also available as separate add-ons are our new 'Playing Style' mixes, which have optimised the IRs for a range of different playing methods: Finger basic, Finger warmth detail, Plectrum (Pick) basic, Plectrum (Pick) aggressive and Slap.
So, what are you waiting for? Get filming and we'll see you on YouTube!