IR Overview
Celestion IRs (impulse responses) are highly accurate digital representations of a selection of our legendary speakers. They allow you to simulate the tone you would get from playing your guitar through one of our physical speakers, but by digital means instead.
Our impulse responses were created with the help of multi-platinum Engineer/Producer Mike Spink at Decoy Studios, a world class live room which is the professional home of award-winning mixing engineer Cenzo Townshend.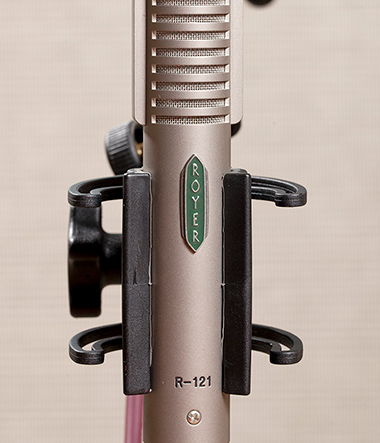 For each speaker we recorded a set of impulse responses for 5 different cabinet configurations: closed back 1×12, open back 1×12, closed back 2×12, open back 2×12 and closed back 4×12.
Then, for each cabinet type we recorded using 3 different industry standard microphones, each placed in 6 different positions, corresponding to a range of different tones (balanced, dark, dark 2, bright, fat and thin) – making 18 recordings in all.
Then we created several additional mixes based on different mic combinations, to give yet further tonal variety. To round off the package we've also included a "room mic only", as well as providing two IR lengths, and a range of sample rates to choose from. (More details are on the IR Mic and Mix Info page – link below.)
Once you have downloaded the IR library for the cabinet type you want (or all five cabinets together if you choose the Collection option) you can start adding them to your guitar sound. You can do this in two ways:
Via a convolution plugin in your DAW
Via your standalone amp modelling hardware
The result is incredibly high quality, professionally mixed Celestion tone, instantly giving you a professional setup mix you can use time and time again.
But it doesn't stop there. Because you have all the tones in digital format you can mix them together to create your own tones, blending different mics, speakers, and cabinet types to find your perfect tone quickly and easily.
And, because your IR library is highly portable, you can use them to quickly recreate the tones anytime and anywhere you want – whether you're practicing with a band or performing live in different venues.
Explore the rest of our Knowledge Base section for additional technical details, or listen to IR samples on our product pages.
Related Information:
IR Mic and Mix Information – Technical details about the microphones we used, how they were positioned and the additional mixes.
IR File Formats – Technical information about the IR files.
IR Instructions – Detailed information about how to use the files.
Convolution Software – Information about the type of software you will need to make use of our IRs.
FAQ – Find answers to Frequently Asked Questions.
Why We Did This – An interview with the Celestion IR development team.