Norwegian bassist Andres Oxholm is the newest addition to our Partners in Tone. Currently working on his third album, Andreas has reached the Top 3 for the finals of the Bassist of The Year 2019 competition in London. We caught up with Andreas ahead of the finals…
Firstly, congratulations on reaching the finals of the 2019 Bassist of The Year Competition! How are you feeling about performing at the Guitar Show in London this weekend?
I'm a little nervous, as expected, but also excited! It's going to be really cool getting to play in front of a like-minded audience who all have an equal understanding and interest in the bass guitar!
I've got the perfect kit planned out for the competition: a Fender Mustang 4-string bass with new pick-ups in it, a Boss GT-1000 – and from the GT-100, I'm using the Celestion BN15-300X bass impulse response with 'Finger Warmth' and 'Detailed' playing styles.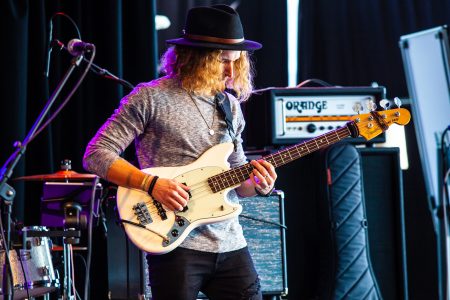 Why did you pick that impulse response? What stands out about the Celestion BN15-300X for you?
Well, after testing all of the Celestion Bass IRs and associated playing styles – through a long process of elimination, I kept ending up with 'Finger Warmth' and 'Detailed'! It was tough to figure out though because there are so many tones to choose from and they're all so good!
What I really want to explain though is the use of Celestion impulse responses; I originally wasn't sure if they were necessary or how I'd benefit from using them – but then I tried them and my mind was blown! I don't know why or how I hadn't used them before!
The really cool thing about impulse responses is having the opportunity to use all the different tones Celestion create. This is really beneficial if you're a studio musician or a producer. But for me, I chose the BN15-300X IR because it reflects my sound.
There are two ways of looking at impulse responses… one is that they provide a really great library of sounds if you're a producer, studio engineer or studio musician because you can change up your sound all the time. But then as an artist, it's also really nice to find the one that perfectly reflects your sound.
How long will you be playing for when you're on stage during the Bassist of The Year competition?
It's only 5 minutes and I'll be playing a song from my first album called Big City Life – a song I never seem to get tired of! I'm counting on the music being more important than the technical abilities so I'm playing more melodic compared to technical playing.
Do you think seeing you perform with just a pedal and the bass IR will have any effect on the bass guitar industry?
Yes. This is actually something I've been thinking about a lot recently. One of the benefits of IRs is finding your sound and then making it really portable so that it's easy for me to fly with and easy for me to travel to gigs, but it's also based on the venue you're playing at having great monitoring. Because you're not bringing any amps to shows, you have to be able to play and have a good sound on stage as well as that affects your playing.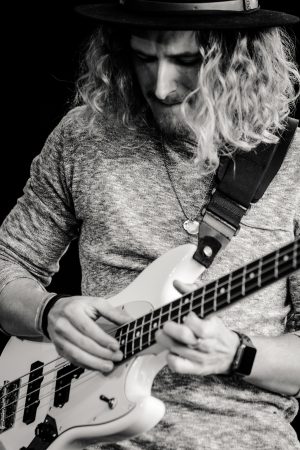 'Bassist of The Year' is a new category for 2019's Guitarist of the year Competition. Talk me through how the competition has played out so far and how you reached the finals? How did you find out about it?
Yes, Bassist of The Year is a new category this year – in the past it's only been Guitarist of The Year, Young Talent of The Year and Acoustic Guitarist of The Year. But this category is new this year which says a little bit about the industry – that the bass players are finally getting noticed for once, which is really good!
But when all of the biggest music blogs in the world are working together at this UK guitar show, then it's almost impossible to not see that there's something going on.
I actually saw a post on social media that was an invitation to enter the competition. I entered my details and a demo video that I'd pre-recorded. All the entries then get whittled down to a Top 10 by a panel, and then the star judges – Mark King (Level 42), Stu Hamm (Steve Vai, Joe Satriani), Joe Dart (Vulfpeck) and Robert Trujillo (Metallica) – choose a Top 3. And then, obviously, it's the Top 3 in the live final at the Guitar Show.
Most people can do well on video because if you mess up, you can just do it again, but on stage you have to be able to perform flawlessly – and that's what I think will set us finalists apart. Using Celestion impulse responses with the playing styles set just how I want them provides consistency and takes away so much stress.
Would you say the IRs give you an edge in that respect because you know the exact tone that's going to be created?
Yes, it will give me complete control that my sound is being played out to the audience. With the IR and my pedal, I know that my sound is going to go direct to the sound engineer and then straight out without him doing anything else apart from adjusting the volume so there are very few variables. But then again, on stage, it's different because the quality of the sound system that's going to the audience is way better than the sound system that's on stage. But it's very nice for me to know my exact sound will be played without anyone manipulating it.
You live and work in Norway but studied at the Liverpool Institute for Performing Arts which has produced a long line of well-known and very talented alumni. Did you enjoy your time in Liverpool?
Yeah very much! Liverpool is hands down the greatest city in the UK! But saying that, I've been on UK tours and seen all parts of the UK – and it's either Liverpool or Brighton for me! They're both really cool places. I really enjoyed my time in England and now with the final, maybe I'll be visiting a lot more.
What are the main differences between the music scenes in Norway and the UK?
Well I'm heavily involved in the jazz scene here. Norway is a really good place to work with jazz because as a country, we support cultural and artsy music a lot more than commercial stuff. This gives scope to some higher paid gigs in Norway. But of course, there's no dispute that the music scene is stronger in the UK.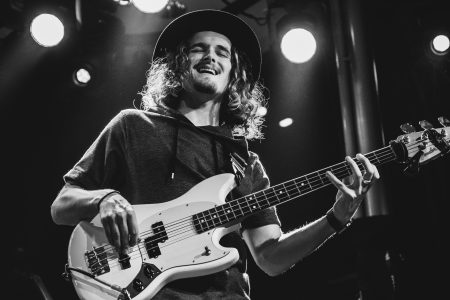 Is there anything you'd like to add as an address to the bass community as to why you feel IRs are a useful bit of kit when it comes to recording and performing?
I think impulse responses are definitely the future for bassists and guitarists. The use of pedal boards that have amp simulations and now also with cab simulations, which use the IRs; it basically turns the old theory on its head because now we can travel with one pedal board and a guitar and show up on stage and play with a really great sound!
But the thing is, the role of the bass player, we're the bond between the harmony and the rhythm – and we're also responsible for the low-end. And if you remove the bass amp from stage then there's not going to be much sub frequency on stage which is a great monitor for you and the rest of your band. I think the removal of a bass amp on stage is one of the main reasons why most bass players haven't thought about using IRs when playing live.
But if you're doing larger, high-quality productions, you usually have your monitors through in-ears and when you have that, then it doesn't matter if you have any amp on stage or not. And when you can hear all of the sub frequencies, that's where the IRs are perfect!
Anything you'd like to add before the competition?
I just want to say thanks for letting me a part of this. I love the Celestion Bass IRs – the consistency and ease of use they provide, combined with the sheer scope of tone available is definitely helping me develop my bass playing, whether that's at home, recording or playing live to an audience.
Thanks Andreas, good luck with the Bassist of The Year Competition! We'll be rooting for you!