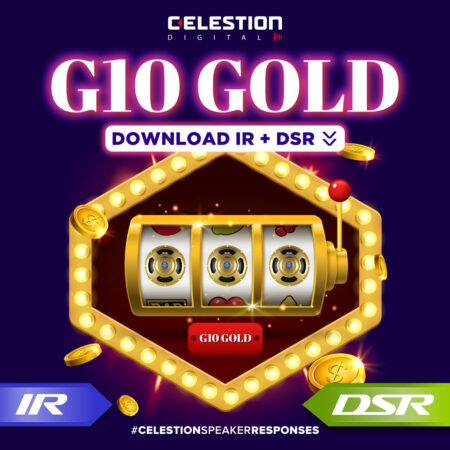 Following the launch of our SpeakerMix Pro plugin in 2020, the Celestion G10 Gold is available to download as both Impulse Responses and Dynamic Speaker Responses.
By processing the fantastic feedback we received for the 12" Celestion Gold, the G10 Gold was born from the clear demand for a speaker that combines the Alnico mellowness of the original Celestion Blue with the speed, articulation, and responsiveness of a 10" driver.
Celestion G10 Gold Tone
Often viewed as the ultimate 10" guitar speaker, the Celestion G10 Gold perfectly blends that unmistakably British, warm Alnico tone with a full, rich low-end, creamy mid-range and a vintage, chiming top-end.
This speaker is springy, revealing and highly expressive and adds a classy sheen to any amp on its own in a 1×10 cab or in pairs in a 2×10 configuration. Or try the G10 Gold loaded into a 4×10 setup for more warmth, depth and shimmer – but with less of the deep boominess that come with the 4×12 cabinets.
You'll love the responsive and articulate tone you get from the pressed steel chassis and Alnico magnet.
G10 Gold Impulse Responses & Dynamic Speaker Responses
This unique speaker has been faithfully captured in digital form by Celestion's expert sound engineers.
Using our highly-guarded sampling techniques, it was painstakingly recorded using three classic, studio-quality microphones – the Shure SM57, A Sennheiser MD421 and a Royer R-121 ribbon mic. These microphones have been recorded from six unique positions around the speaker, titled as Thin, Fat, Balanced, Bright, Dark and Dark 2. A rear mic position was also used for recording the open back cabinets.
These positions are all fully adjustable by the user when using the speaker response files within your DAW, IR plugin or amp modeler. In addition to the three studio mics included, a Neumann TLM107 room mic was also used to offer the user to a huge range of choices and spectrum of tone.
The Celestion G10 Gold IRs are available in five different cabinet configurations:
1×12 (open back)
1×12 (closed back)
2×12 (open back)
2×12 (closed back)
4×12 (closed back)
These can either be downloaded individually or as a full collection with a discount of up to 50%. As with all our other best-selling ranges of IRs, the G10 Gold IR is downloaded in .WAV format to ensure full compatibility with the majority of amp modelling software.
This impulse response is a perfect digital representation of the now legendary 10" Gold guitar speaker and makes a fantastically responsive and articulate alternative to other Alnico-backed speakers, such as the Celestion 12" Gold, Blue or Cream.
Add that unmistakable, warm Alnico tone to your playing with the speed and responsiveness of a 10" driver – Download the Celestion G10 Gold speaker impulse response today!
The Dynamic Speaker Responses of the G10 Gold are also available, for use with our SpeakerMix Pro plugin.
About Celestion Dynamic Speaker Responses
The Celestion G10 Gold Dynamic Speaker Response library, available exclusively for use with our ground-breaking SpeakerMix Pro plugin, enables you to achieve stunningly realistic guitar tones in your DAW with ease.
Dynamic Speaker Responses (DSRs) running in Celestion SpeakerMix Pro react to the dynamics of the signal hitting the speaker to create the most authentic micro-dynamic sound of the real speakers for the next generation in digital tone, with all the life and three-dimensional feel of the real thing.