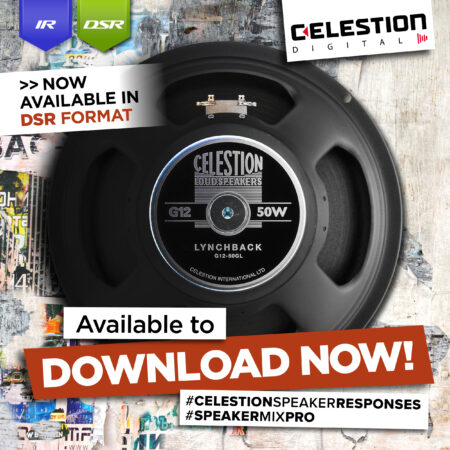 Only the second signature guitar speaker Celestion have ever produced in its 90+ year history, the G12-50GL Lynchback was built for, and named after, the legendary guitarist George Lynch in 2011.
In 2017 this unique rock speaker joined our range of speaker IRs and now, in 2023, it joins our range of Dynamic Speaker Responses, delivering detailed vintage warmth to make your lead sound sing.
Not just for high-octane shred-metal, the Celestion Lynchback delivers responsiveness, clarity and superb dynamics. By blending a unique combination of sonic elements taken from models introduced throughout Celestion's history, we designed a speaker that provides a warm and detailed lead tone, coupled with an up-front attitude just bursting to deliver punchy, effective rhythm sounds.
So, how did the Lynchback speaker come to be? What does it offer tonally? And how can you recreate that signature George Lynch tone at home?
George Lynch – The Guitarist
Listing George's achievements as a guitarist would take many blog articles to do justice, as he has been writing, recording and touring since the late 70's. He came to prominence in the 80s as part of glam metal band Dokken, where he established himself as an inventive and technically gifted shredder. Over the years he has continued to develop his style and is included in Gibson's list of "Top 10 Metal Guitarists of All Time".
As well as his superb guitar playing abilities on a number of iconic recordings (Kiss of Death and Mr Scary are just two of the most famous), George became known for his desire to perfect his tone in every way possible, collaborating with manufacturers to create (or designing and building himself) bespoke versions of many items of equipment, including electric and acoustic guitars, amps, guitar pickups, effects pedals and even guitar strings.
Clearly, Lynch is a man who doesn't do 'off the shelf' and will go to great lengths to achieve perfection. As he puts it: "Everything is in the 10 per cent. You can have a speaker that's 90% but if you don't have that last 10%, that's everything…it's got to be everything or nothing".
Of course, at Celestion we have something of a perfectionist streak too, so when George Lynch asked us to help him create his ideal speaker, how could we say no?
Celestion Lynchback – The Speaker
When designing the speaker, we spent two years working with George in a true, hands-on collaboration that involved looking at every aspect of the speaker's design and construction to create something completely original, bespoke and, above all, personal.
George's starting point was the tone he loved using in speakers from the 60s and 70s, and which he found he wasn't quite getting from more modern equipment. Here's how he describes what he was looking for and the development process:
"All I know is when I use these old speakers… they respond the way I want it to, the way I hear it in my head. Finding a new speaker that did that has been very challenging.
"We set out to design something with the right paper, the right glue, the right magnet, the right magnet material and the right weight and so forth, the right frame and the right voice coil, so that we could achieve that.
"We started out with roughly what is known as the Greenback, and we worked from somewhere we knew we liked, and what we tried to add to that, without subtracting anything, was a little more power handling capability… The Greenback 25 Watt…is the gold standard for rock speakers and we thought a higher powered version of that would really make a lot of sense…
"A lot of my tone comes from my amps, from my pickups, from my fingers, from the few effects that I put in line, and I didn't want that much give on the low end, I wanted the low end to be tight – a little bit tighter so you have that higher wattage handling capability, the low end gets less mushy, a little clearer and… a little bit more transparent on the low end."
The result is a signature speaker which is far, far more than simply a celebrity endorsement. Every part of the Lynchback is a physical embodiment of George Lynch's preferences and years of experience as a lead guitarist. What you'll get is a warm, vintage Celestion tone, with a modern edge and top end clarity.
To find out more about the technical specification of the G12-50GL Lynchback, take a look at the physical speaker dead link, use this: https://celestion.com/product/g12-50gl-lynchback/ , or explore its tonal qualities with some of the Listening Resources listed below.
G12-50GL Lynchback – The IRs and DSRs
With a pedigree like that, the G12-50GL Lynchback IRs and DSRs are speaker responses that every lead guitar player will want to add to their collection.
Greenback aficionados are going to love the extra edge they'll get from the Lynchback, while others will appreciate the highly distinctive tone, helping to give character to different guitars in a multi-track mix. And it's the ideal speaker tone to add to your playing if you want to recreate some of those classic hair metal tracks from the late 80s and 90s or, of course, some of George Lynch's other work such as Lynch Mob or his many solo projects.
Alternatively, you can combine and blend speaker responses to tweak the Lynchback tone in a different direction. The driving force behind the G12-50GL was all about getting the tone that George had in his head to come to life, so we're pretty sure that mixing it with one of our other speaker responses to create your own perfect tone is something Mr Lynch would approve of.
The G12-50GL Lynchback speaker IRs & DSRs are available in 5 different cabinet configurations as usual (1×12 open and closed back, 2×12 open and closed back, 4×12 closed back) and a plethora of tone options to choose from, with the option to buy all 5 together at a discount.
About Celestion Dynamic Speaker Responses
The Celestion G12-50GL Lynchback Dynamic Speaker Response library, available exclusively for use with our ground-breaking SpeakerMix Pro plugin, enables you to achieve stunningly realistic guitar tones in your DAW with ease.
Dynamic Speaker Responses (DSRs) running in Celestion SpeakerMix Pro react to the dynamics of the signal hitting the speaker to create the most authentic micro-dynamic sound of the real speakers for the next generation in digital tone, with all the life and three-dimensional feel of the real thing.
The G12-50GL Lynchback is available for download as impulse responses or, for use with our SpeakerMix Pro plugin, you can download the G12-50GL Lynchback DSRs.
Listening Resources for the Celestion Lynchback:                                       
Celestion Videos
We have four videos demonstrating the tone of the Lynchback for distortion, clean and crunch:
Distortion:
Clean:
Crunch 1:
Crunch 2:
Celestion Lynchback (G12-50GL)
by Hop Pole Studios
Adam Steel runs the Lynchback through a series of configurations – Rhythm, Rhythm+Lead, Quad Tracking, Solo and Single String.
George Lynch/Celestion Lynchback Launch
by Guitar Tricks
Features George Lynch himself talking about his involvement with the development of the G12-50GL at its launch at NAMM 2011.