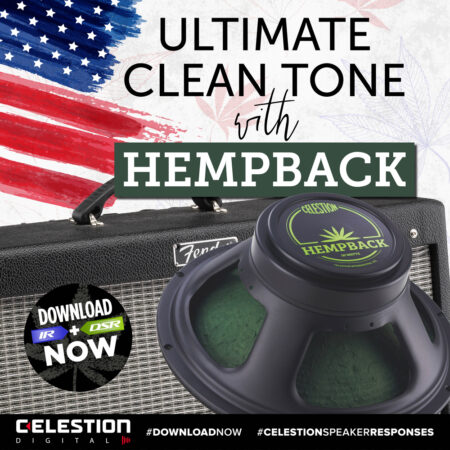 Combining a hemp cone specifically chosen for its tonal character and a medium-weight ceramic magnet, the brand-new G12M-50 Hempback takes Celestion tone in an exciting new direction.
For the first time ever, we released the impulse responses and Dynamic Speaker Responses for a Celestion speaker that wasn't available instore yet, giving you exclusive early access to experience the tones of the Celestion Hempback!
The G12M-50 Hempback is available as both impulse responses and Dynamic Speaker Responses, the DSRs for use exclusively with our SpeakerMix Pro plugin.
For users of Two notes' Torpedo hardware and software, the Hempback is now available as DynIR cabinets.
So, let's dive into the tone of the Hempback and consider where this speaker response might be the perfect fit for your Celestion speaker IR or DSR collection.
G12M-50 Hempback Tone
Well-defined and able to deliver plenty of heft, the new Celestion Hempback delivers a finely balanced low end, plenty of midrange character and smooth, singing highs.
Targeted for use in American voiced amps, the Hempback matches well with combos such as a Deluxe Reverb® or Blues Jr,® for example. That's no less true of the digital response version, which is primed to deliver true American-flavoured tone and cleans that are second to none. It's a sweet and smoky sound that's musical and responsive: try the Hempback speaker responses and let your hemp tone shine through.
The G12M-50 Hempback is available as both impulse response and Dynamic Speaker Response libraries with five different cabinet types:
1×12 (open back)
1×12 (closed back)
2×12 (open back)
2×12 (closed back)
4×12 (closed back)
Each cabinet's response has been captured using three of the best-loved recording microphones, used in professional studios around the world. Each microphone is placed in six different locations, which gives a total of 18 core responses per cabinet.
Listen to some Celestion G12M-50 Hempback samples and buy the IRs here.
Find out more about the physical G12M-50 Hempback here.
Or, for use with our SpeakerMix Pro plugin, you can download the Hempback Speaker DSRs.
Now also available in Two notes format.
About Celestion Dynamic Speaker Responses
The Celestion G12M-50 Hempback Dynamic Speaker Response library, available exclusively for use with our ground-breaking SpeakerMix Pro plugin, enables you to achieve stunningly realistic guitar tones in your DAW with ease.
Dynamic Speaker Responses (DSRs) running in Celestion SpeakerMix Pro react to the dynamics of the signal hitting the speaker to create the most authentic micro-dynamic sound of the real speakers for the next generation in digital tone, with all the life and three-dimensional feel of the real thing.
Hear the Celestion G12M-50 Hempback
Check out Ford Thurston's demo of the speaker below, where he demonstrates the Hempback with some unique tones: