The Celestion Heritage G12M speaker faithfully recreates the original and iconic 'Greenback' ceramic magnet guitar speaker. It is the perfect choice for guitarists who want to add silky smooth warmth and an authentic '60s Greenback vibe to their tone.
Available now as an instant download, read on to discover more about this legendary speaker.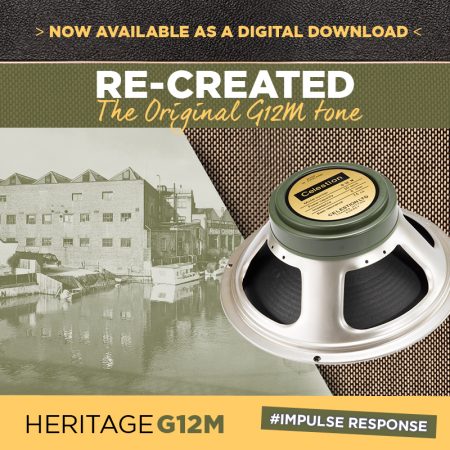 The Original Greenback Speaker
Originally released in the mid '60s, the Celestion G12M was the first of our ceramic magnet G12 guitar speakers to feature the distinctively-coloured green rear can, cementing its 'Greenback' nickname. The speaker – celebrated for its silky smooth tone and sweet, organic overdrive – quickly rose to prominence and achieving iconic status, establishing itself as a firm favourite among many the great '60s rock guitarists, including Eric Clapton and Jimmy Page.
The Heritage process involves regressing the speaker's development back to its fundamental origins, to recapture as closely as possible the tonal qualities of the target speaker in that era.  When we re-created the original G12M speaker we followed the original specifications and blueprints to re-visit as closely as possible the original design of this cherished speaker.
The original construction method was followed: Heritage speakers are all hand made.  Adhesives and edge treatments, were reformulated, and moving parts were re-engineered, all to capture as closely as possible, the seminal G12M tone.
Now we've brought the Heritage G12M right up to date, and faithfully re-created the classic tone of this iconic speaker yet again – this time as an authentic Celestion speaker impulse response, ready for you to instantly download.
The G12M delivers plenty of rich, vocal, mid-range crunch as well as delicate-but-detailed treble – with just the right amount of compression when pushed, to add a satisfying vintage warmth. It's balanced low end gives the speaker a full-bodied tone, making it perfect for classic rock and blues players alike.
Celestion Heritage G12M Speaker IR
Each of our authentic impulse responses, including the Celestion Heritage G12M speaker IR, is available for download in a range of five different cabinet options: 1×12 (open or closed back), 2×12 (open or closed back) and 4×12 (closed back).
To capture the tones of each cabinet, we've chosen three widely used pro-quality studio mics – the Royer R-121 ribbon mic, a Shure SM57 and a Sennheiser MD41. Each microphone has been recorded in six different positions, with a further rear placement for open back cabinets, each position giving you a different tonal quality. On top of that, each cabinet has been captured with a Neumann TLM 107 room mic, allowing you to adjust the level of room sound you want in your mix.
If you can't decide which of our new G12M cabinet IRs to choose from, remember that the original G12M speaker used in many Marshall cabs including the iconic Marshall 1962 'Bluesbreaker' amp, so to recreate that authentic Clapton '60s tone, the G12M open back 2×12 cabinet IR is a good starting place.
The Heritage H12M speaker IR can be used on its own, or in a mix with one of our other impulse responses. Here are just a few ideas for you to try:
On its own:
The Celestion Heritage G12M shares a pedigree with our regular Celestion G12M Greenback of course – so it's a great alternative for any Greenback aficionados looking for more of a vintage twist on their usual tone.
The Heritage G12M also makes an interesting alternative to the Vintage 30 if you're looking for a warmer, more vintage feel.
With physical speakers, you may have hesitated to use the 20W Heritage G12M for high gain playing, but with an IR you don't have to worry – you can crank the volume up and get that authentic Greenback tone without blowing anything up!
In a mix:
Many players combine different Celestion speakers in a cabinet to achieve the tone they are looking for. And if you're creating a multi-guitar track it's a good idea to give each guitar in the mix its own distinctive tone.
To hit those low frequencies, try combining the new Heritage G12M IR with the Heritage G12H (55) impulse response, launched last month.
To create a modern edge to your playing, you can mix the G12M with one of our more contemporary speakers, such as a Celestion Lynchback, a G12K-100 or an A-Type. Or for a more vintage rock tone, try mixing it with Celestion Vintage 30.
Alternatively, if you want to keep it vintage but add a different flavour, why not try mixing with the Celestion Blue?
With 19 other speaker IRs in the Celestion impulse response range to choose from, the combinations are endless.
Apply that silky smooth '60s tone to your playing by downloading the new Heritage G12M Speaker IR here.
Our iconic Celestion Heritage G12M impulse response is available for download as a single cabinet IR – or SAVE 50% when you buy the complete set of all five cabinets. Alternatively, create your own selection of authentic Celestion IRs with our Pick and Mix option.
Listening Resources for the Celestion Heritage G12M:
Soundclip – G12M Face-Off:
Soundclip – Heritage Face-Off G12M vs. G12H (55Hz):
Soundclip – A crash course in vintage Celestion Greenbacks: