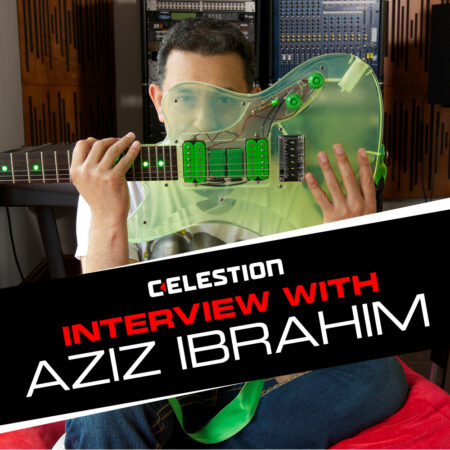 We caught up with Aziz Ibrahim – one of Celestion's long standing endorsing artists. He is best known for his work as a leading guitarist for several internationally acclaimed bands and artists including The Stone Roses, Simply Red, Ian Brown, Paul Weller, Steven Wilson, Asia and Rebel MC. In 2005 Aziz was recognised by the Queen for his work with the British Council in NW Africa, Middle East, Jerusalem, India, Pakistan and with prisoners and hospice patients. Aziz has been experimenting with and using Celestion impulse responses professionally for both recording purposes and in live performances.
How long have you been using / experimenting with the IRs? And how did you first find out about them?
I have been working with IRs for a while and I have always been a strong believer in technology. I will embrace anything which improves creativity, increases workflow and enhances what I'm doing. So, this new generation of products really suits me! IRs help on so many different levels and make things possible that weren't possible before.
With Celestion's range of impulse responses, I have been using their speakers for years and recently moved on to their IR range. Their attention to detail which is what I really like. It's also a great thing having a big library of IRs and getting to try speaker tones I have never used before. This has also led me to try out new physical speakers in the flesh after discovering them first in digital format.
What do you love most about IRs and how do they benefit you as a musician?
I found as a touring musician playing the guitar, that there was a strong need for IRs. Of late I have become more invested in using IRs for both the purpose of recording, live shows and now I use them in both domains all the time.
When I bought the IRs I was intrigued to know what they really sounded like. I really love that I can perform live with a laptop using IRs in cabinets – such as the Power Plus cabinets from Line 6.
I was introduced to so many different speaker variables including the 12s and 10s and 15s and going from Alnico to Ceramics and Neodymium. There are two worlds for me when it comes to using IRs. The live arena and then there's the recording studio.
I am currently using four of the Line6 cabinets in a show for a quadraphonic guitar experience. Of the two inputs, one socket is running the IR and the other socket is flat response. The technology is at the heart, giving out four independent sounds which provides infinite options and output flexibility.
Do you have any favourites out of the Celestion IRs?
Yes, I do. My first love is the Alnico Blue, then the Celestion Gold and also the Creams. I generally tend to use those for the guitar emulation aspects of it depending on the tones I am trying to achieve. When it comes to producing older tones, I will go for the Greenback cabinet.
I often use the Blue and the Golds and the Creams when I want to experiment with different tone combinations. I also find with Celestion IRs that I can create sounds that didn't exist before.
Would you say that IR's have influenced the way that you play?
It has changed everything, including the way I record music. The fact that I am recording with IR instead of an actual speaker cabinet, means that I can record in places I normally couldn't – for example at home where I can't always make too much noise.
I am getting a wider variety of results in comparison to physical speakers in the studio. It's much like reamping for me where you find the sound that suits the mix as opposed to the one cab option we normally have. IR is the way to go.
The other aspect is when I play live. The key benefit is that I am not carrying big cabinets which can be back breaking for my tech, lol!
I also enjoy the fact that I can experiment with IRs to create different tones and sounds and run many different IRs together.
What other benefits do IRs provide?
When I play the acoustic guitar, I can process it using IRs through distortion and modelling amps and then through an IR to create a new tone or emulate a new guitar at unheard of hi-gain levels.
The IR is so important to me in terms of being able to process any instrument, not just the guitar. I also play a 25-string fretless steel string Indian Instrument called the Sarod, which I can process through IRs.
I can also shape the tone with an IR to help me project a full live performance and production experience. It can also help me determine where I want the tone to sit in a mix or live show.
Tell us more about the latest shows you are doing for Line 6 and Yamaha…
I initially started experimenting with quadrophonic guitar sounds and performed for a live 'BBC Introducing' show for Line 6.
What really interested me about using Line6 Helix was the controller and the audio IO section of it which allowed me to communicate with so much external digital/analogue equipment, as well as wireless comms through Yamaha's midi Bluetooth plugs.
Yamaha became interested because I created this four-dimensional sound. I wanted to produce a new guitar experience, that involved loading IRs into power plus cabinets and Yamaha monitoring.
Did you use Modelling Technology during your tour with Ian Brown and the Stone Roses?
Perhaps in its infancy. When I was touring with Ian Brown just after the demise of The Stone Roses. I had my own PA system on stage. I was running guitar synthesiser, with Roland VG8 guitar modelling, electric guitar and magnetic pickup output through Godin guitars. They were the only guitar that could do it for me at the time. All that was being processed through my small Yamaha PA, but it was a lot of gear to cart around if you take in the three 4 x 12 Celestion loaded Marshall cabinets with 3 Marshall 100w JCM 2000 heads I was carting around!
So when IRs came along obviously it was a God send. Now I can create stereo image and or run a quadraphonic image, at the same time I am running flat response as well as IR.  You can probably tell by the way I am talking that I am so excited and inspired by this technology!
Tell us more about your music therapy…
I originally volunteered my services at HM Prison Risley (Cheshire, England) to do guitar and mentoring sessions on a weekly basis. I wanted to explore if music is key in communication and in terms of providing a better experience for marginalised groups of society.
The relationship with inmates began in prison based upon their affinity for the bands I have been a part of. They might be into the Stone Roses or even Prog like Steven Wilson or soul and R&B, which is a good conversation starter.
There is a common ground already established through an affinity for music and their respect for these artists. I have also been doing some work for a hospice in Keech (Bedfordshire, England), working with terminally ill children. Just hanging out and playing their favourite tunes where they can get some last-minute enjoyment out of listening, discussing and playing together.
I learned a valuable lesson about music being a valid communication device. It's not about how good you are, but a way of allowing someone to say what they can't say in words to people that are around us every day.  Music can give you hope or motivation when day to day life can be difficult to manage.
Do you have any other up and coming projects in the future that we should know about?
I have got a lot of interesting projects coming up. I have been working with the Arts Council England for three years now I am working around several subject matters, but mainly around South Asian culture and cultural diversity of the UK as well as experimenting with diverse artists and instruments.
I've been working with Sarod, Santoor, Tabla with music, dance and visual arts, as well as setting up performances in unusual spaces. For example, I have been promoting music performances in museums and libraries, trying to reclaim cultural spaces that belong to our communities.
I am also working with Lancashire County Council and the Arts Council and working with Manchester Museum and Manchester histories and archives in Manchester Central library. I have numerous projects, some working in the arts some working in the rock and roll world, as well as the contemporary music world of trap and grime, where I'm interested in using everyday technology to show young people what is already in their possession that can create music.
I also want to share with aspiring artists how to make great music using IRs and other available technology. It's expensive having to fly heavy equipment around!