We caught up with Dan Weller – touring band member, singer, acoustic and electric guitarist, mandolin, banjo, and dobro player for the hugely-popular, multi-platinum country duo, Florida Georgia Line. Dan has been experimenting with and using Celestion speaker impulse responses professionally since their launch – for both recording and live performances.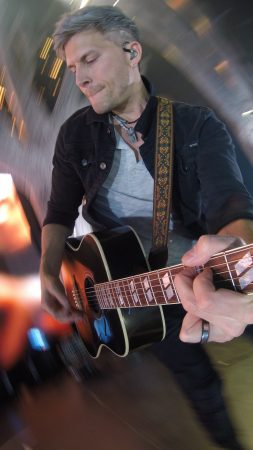 Q: What is your relationship to Florida Georgia Line?
Florida Georgia Line is made up of Brian Kelley and Tyler Hubbard. They're the principals and the rest of us in the band are basically long-term hired guns! I've been with them for six years.
FGL studio and touring musicians are different – that's just Nashville workflow.  Where we (the live band) come into play, is everything that we do live – live shows, television and anything else – we take what the studio recorded, get those stems and then recreate/retrack it ourselves. So, when you hear a live show anywhere or when you hear us on TV, that's actually the live band performing.
Q: Where do IRs come into all of that?
Early on, we started with live amps/cabs and mics. Then we evolved to a live amp with a speaker reactive load and a speaker simulated out to an XLR – no mics. It was a huge jump and I started hearing that consistency, but I never really liked any of the speaker simulations from anything we plugged into. The next goal was to go from a live amp into a reactive load into a Two Notes Torpedo with IRs in it but we actually skipped all that and went straight to Fractals.
For me, the aim of using IRs was to get consistency. I wanted to get the sounds that I've had in my head but have the consistency of being in a studio every night. And putting them in the Fractal AX8 made it even easier because of its portability. The irony of that is we're playing these massive venues where I could be running around with Marshall stacks and I have something that fits in a backpack! But that's the glory of technology, it's pretty cool.
Q: Do you use IRs for recording or is it just for the live performances?
Yeah, definitely use them for recording too. I use several plugins in ProTools and pull IRs into those. Two Notes Torpedo CAB, the Fractal AX8, the Kemper – I've got Celestion IRs in everything! All those little pieces do different things.
The IRs do exactly what they're supposed to do. The collection Celestion has put together is so complete and so well done I was pretty floored the first time I started dialling through – they're just so good! You can tell musicians made them. They're clearly huge music fans who know how to mic things up and how they're supposed to sound. They really did a great job with them – I love them!
Q: Which Celestion IRs are your favourites? Do you have a particular speaker that you use as your go-to?
I actually have several. It depends on what instrument I'm using and what kind of song I'm playing. What I love to do is a split 2×12 – so if I wanted to get more of that Alnico tone on one side, I'll put in a Celestion Blue. And if I wanted to have more of that punch and crunch, I'll have a G12H Anniversary or a Creamback on the other side. And you can mix and pan with them. Even though I'm running one amp, I can create the illusion that there are a couple of things going on. It just makes the scope of tone a lot more realistic. It's an easy workaround if I want to get some of that 'squish' or something similar.
Q: Which IRs are related to some of your most popular songs?
The first one we do at the live shows is 'Anything Goes'. I've got a split setup on that one, so it's the G12H Anniversary 4×12 closed back (high gain) with the 121-57 [microphone] mix – which I'm a huge fan of. It sounds exactly like it's supposed to in my head.
I've got that paired with the G12M Greenback 4×12, so it's got that big punchy low-end with that great woody rock sound – it's perfect. I use that combination on quite a few of the songs.
There's a song we do that I'm sure everybody has heard – 'Meant to Be' with Bebe Rexha. On that one, I'm using the G12H Anniversary 2×12, closed back (high gain) paired with the G12M Greenback 2×12, open back (high gain). So you get a similar kind of tone, but it's a little smaller. There's not quite as much low-end and the open back means you've got more air.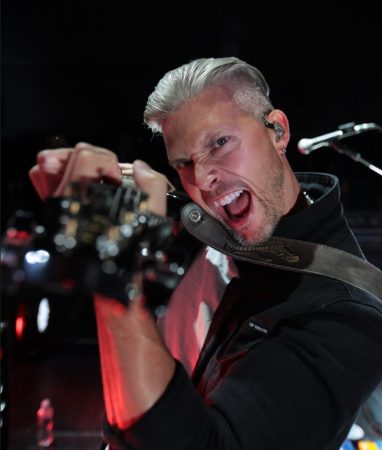 Q: What benefits do IRs provide for you during live performances?
For live performances the consistency is amazing – it's just great! I've got the same show in my head and no matter where we go now, my guitar sounds the same. I'm such a gear nerd. I've got old amps, mics, guitars – I love gear and I love finding sounds. Celestion impulse responses sound and feel exactly as if I had my favourite cab mic'd up in a studio room somewhere. I quickly realised I would never have any need to lug any of this heavy stuff around again.
So it goes back to the irony of us having all these massive rooms and the space to drag in and use live amps that we're simply not anymore! There's so much consistency and reliability in these setups and it's just… easy! It's consistent and it's made everybody's life so much better. Our monitoring engineer doesn't need to change things, our front-of-house engineer doesn't need to change things. There's no chasing tones/mic placements at soundcheck – it's already done!
When you're mic'ing up a cab and trying to find the sweet spot, every time you go someplace, you have so many variables, even like different floor materials. Or if the room is big and open, you're going to have a 'boomy' room. Your front-of-house engineer is always going to have to compensate for these things coming through a mic. You're always going to be fighting these variables. But now, our front-of-house guy is just going, 'OK, there's Dan's guitar' and he pushes a button. He mutes it or unmutes it and doesn't have to do much – maybe a slight adjustment to compensate for a room's peak frequency. So, it's a pre-done, studio-quality signal out to front-of-house every night.
Q: That must save you a lot of time setting up as well…
Oh, 100%. That's another huge benefit: setting up and sound-checking. The great thing about IRs is knowing it's going to be exactly the same tone every night. The only thing that's going to be different is my playing but there's no concern about what my guitar rig sounds like at all. It's so good!
Now I get to just run around and enjoy the show every night because my guitar sounds like it's being done in a studio – it's great!  It's made our show so much more fun!
Q: And what about the benefits of using IRs for recording?
Everybody has different speakers and different microphones. Or maybe you want to have different speakers and different microphones. Imagine you're recording something and whatever you're using isn't quite giving what you want, so you think, 'I want a JCM800 4×12 or a Mesa Rectifier 2×12 or a Fender Bassman 2×12 and I know a softer ribbon mic like a Royer 121 would kill on this right now!' Well, the Celestion impulse responses have all of that!
So IRs do a couple of things: they've been mic'd up the best, plus you've got all the speaker mic location options – even on the open backs you can have a back mic on there if you want, which is genius! And you can blend it in if you want.
So, you're sitting there recording and instead of having to keep running over, switching cabinets, moving microphones around – even to the extent of 'this speaker's great but it's in the wrong cabinet – it's a closed back and I need it in an open back'.  Instead of having to stop and go off-air and take your cabinet apart and put that speaker in something else, you just go into the computer and scroll through these pre-done, pre-mic'd up, ready to go IRs and drop them in there until you go, 'that's exactly it'.
IRs make the workflow a lot faster if I'm in a creative space. I don't have to stop and go tinker with gear, I can sit and focus more on what I'm doing because it's just there. I don't have to go and invest the time away from that creative space, like, 'oh I've got to quit doing this and go get out a drill!'
Q: Is there anything you'd like to mention?
I'd like to add that I thoroughly enjoy getting to work with Celestion and appreciate the opportunity! Your speakers are amazing and the Celestion impulse responses are the best I've come across. They're well thought-out and really well-done, so kudos! They've made my life so much better!
Dan is currently gearing up for November rehearsals and a two-week December stint in Las Vegas with Florida Georgia Line. Watch for upcoming announcements to view the build, tweak and perfect process as FGL and Dan prepare their live show for an extensive run of concerts in 2019.
Celestion impulse responses for the G12H Anniversary, the G12M Greenback and the Celestion Blue are available for download at these links. Or explore our full range here.