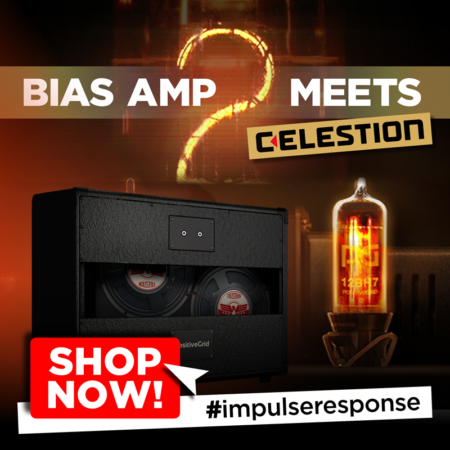 NAMM 2018 saw the launch of Positive Grid's new guitar amp simulator, BIAS AMP 2, and we are delighted to announce that the Elite edition of this groundbreaking new software includes an IR library of some of Celestion's most legendary speakers. So let's take a look at what the BIAS AMP 2 has to offer, which speaker IRs are included with this exciting new product, and why we have partnered with Positive Grid in this way.
BIAS AMP 2 from Positive Grid
BIAS AMP 2 is the latest version of Positive Grid's amp simulation software which was launched as a standalone product for Mac and PC in 2016, and which sets a new benchmark for giving guitarists the ability to control tone more easily than ever before.  It uses an intuitive, graphical interface which allows users to design and build a virtual amp from a range of components, including pre-amps, power amps, tubes, transformers, tone stacks and filters. BIAS AMP 2 takes this concept further and includes many additions and updates to the original product including:
New Amp Match– Show BIAS AMP 2 a sound file which has the type of tone you want to re-create, and let the software build an amp for you!
Dynamic Tone Control – A new feature which emulates the way that tube amps respond to varying levels of gain.
Speakers, Cabinets and Microphones – Control what happens to your tone after it comes out of the amp – courtesy of Celestion, of course (more on this below).
There are lots of other features too that help you customise your tone – like nine built-in reverbs, all customisable with filtering and saturation options, as well as new tone packs for Blues and Bass, which join the existing tone packs for Glassy (clean and low-gain), Insane (metal) and Crunch (mid to high gain).
For a full overview of all the new features in BIAS AMP 2, head over to the Positive Grid site, or watch their preview video (less than 5 minutes) here.
BIAS AMP 2 is available in 3 different versions: Standard ($99), Professional ($199) and Elite ($299) – or if you already own the original BIAS AMP product, there are upgrade options available.
What's in the Celestion IR Library?
The BIAS AMP 2 Elite includes the Celestion Classic Pack consisting of 5 legendary Celestion speakers: the Vintage 30, Celestion Blue, G12H Anniversary, G12-65 and the G12M Greenback.
With the BIAS AMP 2 Elite priced at just $100 more than the Professional version (which doesn't include any IRs), just a little basic math shows that this is an incredibly good value way to get your hands on five of Celestion's most iconic speaker IRs, while also benefitting from an easy to use interface for working with them.
Following purchase, there will be a further pack of Celestion IRs available to buy – The Modern Vintage Pack – containing the G12M-65 Creamback, G12H-75 Creamback, Neo Creamback, G12H-150 Redback and the A-Type.
Alternatively, owners can also add to their IR library by purchasing individual Celestion IRs and uploading them to their BIAS AMP 2 Elite software.
Why Have We Partnered with Positive Grid?
Positive Grid were looking for ways to extend tone control beyond the amp, to include the cabinet, speaker and microphone as well. Celestion had already nailed this over the past year, with a large collection of our classic speakers in digital form, widely acknowledged for their accuracy and authenticity. So on a very practical level, there was a natural fit between our existing products.
But when Celestion and Positive Grid started talking about a possible collaboration, it became obvious very quickly that we were all very much on the same wavelength when it comes to guitar tone. What we both wanted was to give guitarists the ability to achieve the authentic sounds that they crave, heavily based on traditional analogue equipment – whether that be from a classic tube amp or speakers that have been defining the sound of rock since the 60s.
What inspired us most about the approach that Positive Grid were taking was that their focus was not only on giving guitarists authentic sounding,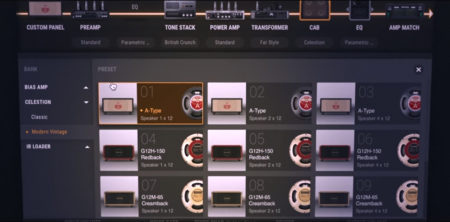 analogue-inspired tone in a digital format; they were also committed to giving them a high level of control, allowing them to adjust and craft that tone to get the precise sound they wanted.
Also important for us was Positive Grid's strong focus on ease of use. Often, and particularly for professional level kit, an increase in control and flexibility tends to equate with an increase in complexity, creating a steeper learning curve for users. But Positive Grid have addressed this issue head on, with one of the most intuitive, full graphic UI's we've ever seen in this type of equipment. And they've extended this approach to interacting with the Celestion IR library too, making it easier than ever to select and switch between speakers.
In particular, we love the way the BIAS AMP 2 provides a graphical way to visualise and edit microphone choices and create multi-mic mixes.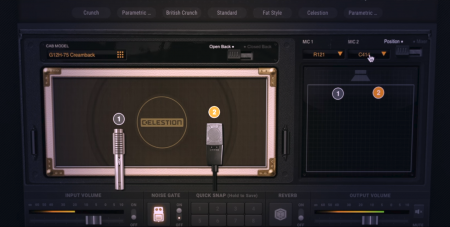 The end result is a product which allows guitarists unprecedented end-to-end levels of control and flexibility over the final tone, all in one piece of software. BIAS Amp 2 can run as a standalone with no DAW, or as a plugin with DAW, both on PC or Mac, meaning the world of digital guitar tone has never been so accessible.
Find out more about BIAS AMP 2 and buy here.
Explore the Celestion IR Library here.
Additional Resources
BIAS AMP 2 Demo by Lari Basilo:
Demo by Brandon Ellis with a playthrough of his song No Escape:
Music Radar coverage of inclusion of Celestion IRs in BIAS AMP 2, with a report and video from NAMM 2018:
Gear News reports on the partnership between Celestion and BIAS AMP 2:
https://www.gearnews.com/positive-grid-bias-amp-2-new-amps-celestion-speaker-emulations/
Premier Guitar report on launch: 
https://www.premierguitar.com/articles/26774-positive-grid-announces-bias-amp-2