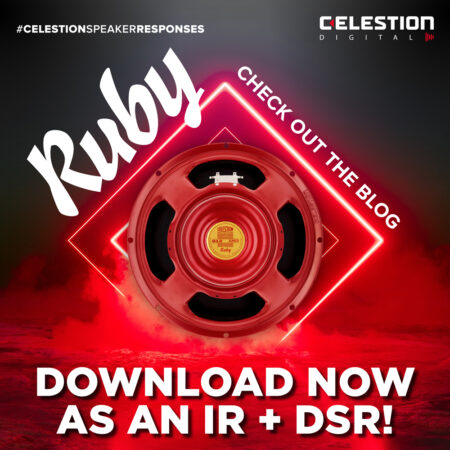 The gorgeous Celestion Ruby, captured digitally by our expert sound engineers, is available as both Impulse Reponses and Dynamic Speaker Responses, for use with our SpeakerMix Pro plugin.
The Ruby is a speaker designed with an alnico magnet and purpose-built to create vintage tones, whether loaded into a 1×12, 2×12 or 4×12 cabinet. The Ruby is the newest addition to Celestion's alnico speaker family that also boasts the legendary chime of the Blue, the dark punch of the Gold and the effortless refinement of the Cream. It brings the instantly familiar Celestion alnico vibe with its glorious, dampened attack – oozing a richly musical warmth, with mellow highs and a smooth, sophisticated midrange.
A New Spin on Alnico Voicing
The versatile Ruby is voiced to combine the heralded chime of the ever-popular Celestion Blue, with the vintage-rock attitude of the Gold and the contoured warmth of the Cream. This new spin on the timeless Celestion alnico voicing that the Ruby achieves seems to imbue amp settings that may have previously seemed lackluster or strident with a lustrous new life, coaxing previously undiscovered sweetness, balance and depth from your tone that always seems to sound just right!
Celestion Ruby Speaker Responses
Now, Celestion's sound engineers have expertly captured the Celestion Ruby in digital form as speaker responses which are available to download in five different cabinet configurations, to provide the user with the full spectrum of warm, vintage tone the Ruby has to offer:
1×12 (open back)
1×12 (closed back)
2×12 (open back)
2×12 (closed back)
4×12 (closed back)
These cabs were recorded in a world-class room using three of our favourite microphones, the Shure SM57, Sennheiser MD421 and the Royer ribbon mic. Each of these three mics, in turn, were recorded in six fully-adjustable positions around each 1×12, 2×12 and 4×12 cab (plus a rear mic for the open back cabs). These positions are named within the IR files as Balanced, Bright, Fat, Thin. Dark and Dark 2.
An additional Neumann TLM107 room mic was also used to provide a truly huge range of mic mixes and tonal options for the user to experiment and play with.
These Ruby cabinet configurations can either be downloaded individually or as a full collection with a discount of up to 50%. As with all our other best-selling ranges of IRs, the Celestion Ruby Impulse Responses are downloaded in .WAV format to ensure full compatibility with the majority of amp modelling software.
They can also be downloaded as dynamic speaker responses, for use with our SpeakerMix Pro plugin.
This speaker impulse response is a perfect digital representation of the Celestion Ruby and is the sophisticated alternative to other alnico-backed speakers, such as the Celestion Gold, Blue or Cream. Add that instantly familiar, warm alnico tone to your playing today!
Download the Celestion Ruby speaker impulse response now!
For use with SpeakerMix Pro, download the Celestion Ruby Dynamic Speaker Reponses
The Celestion Ruby Holds its Own in Alnico Shootouts
Check out this great alnico shootout where Zilla Cabs compare the Celestion Ruby side-by-side with a Blue, Gold and Cream:
…or this alnico shootout from guitarist Scott Sill: