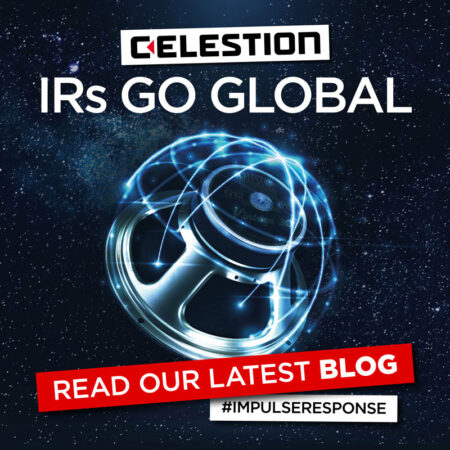 Since Celestion's range of speaker IRs was launched in January last year, they've been bought and used worldwide. We've seen downloads from over 80 countries around the globe, and from every continent except Antarctica.
As you might expect, the majority of our buyers are based in the USA and United Kingdom. But, like our speakers, Celestion IRs have quickly become a truly international phenomenon, and we've been thrilled to see the huge range of players from different countries adopting and using our IRs to make great music.
One place that many of our users like to hangout is on YouTube, so here we've picked one video from each of the countries we've spotted over the past year and a half, to showcase the sheer diversity of nations actively involved in using our impulse responses.
The following is listed by country in alphabetical order:
Australia – Brandon O'Donnell
Brandon experiments with the placement of different Celestion cab IRs, as well as room mic IRs in the signal chain.
Belgium – Ignazio Di Salvo
Ignazio uses his favourite Celestion IRs to play three tracks on his Ibanez and an Axe FX II to show how various pick-up combinations can be used to obtain different colours in the same arrangement.
Canada – Jason Sadites
Jason plays an original song recorded using Celestion speaker IRs.
Czechia – Jaroslav Holub
Jaroslav demos a live mixing session with BIAS Amp 2 Elite with Celestion cab IRs.
Denmark – Simon Gottelf
Simon expertly demos some of his gear using a Celestion Greenback IR.
Finland – Juri
Juri uses a Celestion Vintage 30 2×12 (open back) with a Two Notes Torpedo Captor.
Germany – Nico Schliemann
Nico demos some of his favourite Celestion IRs.
Indonesia – Taufik Cox Maulana
Taufik tests a Fractal AX8 with his Gibson and a Celestion G12M 65 Creamback IR.
Italy – Nick Ancillotti
Nick Ancillotti jams with a Celestion IR and a Line 6 Helix LT.
Japan – Chandler Guitar
YouTube user Chandler Guitar gets creative as he mixes some Celestion cab IRs.
Luxembourg – Julien Soyer
Julien demos the BIAS AMP 2 with a Celestion IR.
Norway – Henning Ness
Henning uses an Atomic Ampli-Firebox and a Celestion Creamback IR.
Portugal – Anderjoce Pereira
Anderjoce uses Bias Positive Grid with a Celestion G1265 IR 4×12 with his Gibson Reissue '59.
Russia – Sergei Tabachnikov
Sergei uses four different Celestion IRs with a load of other gear in this great demo.
Spain – Portabaco
YouTube user Portabaco uses a Fractal Audio Axe FX II with a Celestion IR.
Sweden – Andreas Markusson
Andreas creates some beautiful tones with an Archetype Clean amp with a Celestion Creamback 75 IR.
Along with the US and UK, this adds up to no fewer than 18 different countries represented – and that's just the people who took the time to upload a YouTube video! We know there are many more musicians and producers from many more countries who have embraced IRs into their setup, whether for private use at home, professionally in the studio for recording, or live on stage.
In forums, we've seen even more countries discussing our IRs, many in languages that sadly we don't speak. But, like music itself, the quest for great guitar tone transcends both nationality and language.
Are you a Celestion IR user from a country not mentioned in this list? Why not make a video using your impulse response? We'd love to feature you!
Explore our impulse response range here.