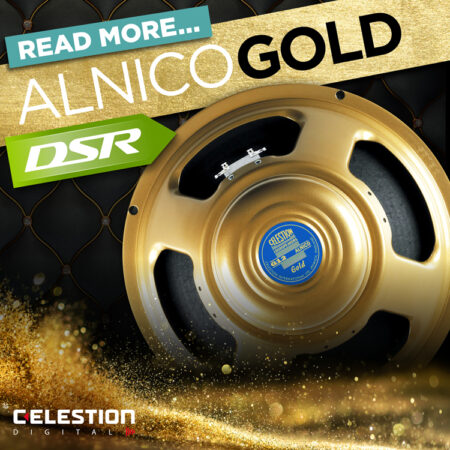 We are excited to announce yet another addition to the Celestion Dynamic Speaker Response range, for use with our SpeakerMix Pro plugin – the Celestion Alnico Gold.
To help you decide whether the Celestion Alnico Gold IRs and DSRs deserve a place in your speaker response collection, let's take a look at how the Alnico Gold speaker came to be created and the tones it has to offer.
Celestion Alnico Gold – Origins and Tone
The Celestion Gold is an Alnico magnet speaker which was primarily inspired by the classic Alnico Blue, a British rock stalwart since the 1960s.
When we began developing the Alnico Gold in the early 2000's our goal was to provide the same laid-back attack of the Blue, along with all the Alnico chime and low end warmth that Blue owners loved, but to make it capable of handling a whole lot more power – 50 Watts, compared to the Blue's modest 15 Watts.
We also wanted to emulate the sound of a Blue that's had some of the higher frequencies softened over time – with the Gold you get that "played-in" tone straightaway.
However, the Alnico Gold is much more than simply a higher powered version of the Blue. With a specially designed new voice coil, the Alnico Gold also offers its own distinctive tone, with even more warmth and roundness at the bottom end, with additional midrange complexity and lead tone saturation, while also maintaining great detail and articulation.
It all adds up to a speaker that has huge rhythmic voicing with rich, thick overtones and is incredibly expressive and responsive to changes in playing style – a quality which was quickly noticed by professional players and reviewers alike. In his video review Paul Riario of Guitar World Magazine notes: "They react just like the Celestion Blues: If you pick lightly, you get very clean sounds and if you dig in a little bit you start to get a little bit of overdrive and grit." (See Listening Resources below for Paul's full review.)
Unsurprisingly, the Alnico Gold soon became established as a firm favourite with many well-known artists – here are just a few:
Brad Paisley: "With the Gold, Celestion has nailed the tone of the original Blue in a higher watt speaker."
Steve Trovato (Country Jazzmaster): "I tried most of the popular speaker brands but when I heard the Celestion Gold 12-inch speaker it turned my head around. It's the exact sound I'm looking for."
Glenn Tipton (Judas Priest) – "Nearly forty years on, the same speakers are the final complement to my sound."
Aziz Ibrahim (The Aziz Band, Ian Brown's Band): "Those Golds are the dog's…!?!"
Patrick Matera (Katy Perry): "Celestion Gold speakers sound amazing, they've got a warm vintage tone with tight and punchy low end that's helped me get the best sound I've ever had."
If you visit our Partners in Tone pages, you'll notice the Celestion Alnico Gold getting more than a few mentions by some of the world's best guitarists – some use the Alnico Gold as their go-to speaker, while others use it as part of a wider palette of Celestion speakers.
To find out more about the technical specification of the Celestion Alnico Gold, take a look at the physical speaker product page, or explore its tonal qualities with some of the Listening Resources listed below.
Celestion Alnico Gold Speaker Responses
The Celestion Alnico Gold speaker impulse response is available in 5 different cabinet options (1×12 open and closed back, 2×12 open and closed back and 4×12 closed back) with a wealth of tone variations to choose from – or buy all 5 cabs together at a discount.
This is a speaker IR that's destined to become a firm favourite, just like the physical Gold itself, either on its own as a versatile, go-to speaker, or to expand your tonal range and complement other IRs in your collection.
You could combine the Gold with other Alnicos in the IR range (the Blue or the Cream). Or you can create some interesting contrasts by using it with speakers that have different types of magnet, like the Vintage 30 or G12M Greenback (ceramic), or the Neo Creamback (neodymium) to give you a wider tonal palette to play with – especially useful if you are putting together a multi-guitar track and want to give each guitar its own distinct voice in the mix.
So, if you've always dreamed of owning some Celestion Alnico Golds but they were just a little out of your price range, dream no more – some rich, Alnico Gold tone can be yours in just a few clicks.
New for 2022, the Celestion Alnico Gold is now available as a Dynamic Speaker Response. Our DSRs model the speaker's sonic characteristic dynamically, shifting in response dependent on changes in the input level, for a more natural, 'analog' feeling and sounding output.
Download our Impulse Responses or new Dynamic Speaker Responses, or check out our Listening Resources section below.
Listening Resources for the Celestion Alnico Gold:                                                
Celestion Videos
We have four videos demonstrating the tone of the Celestion Alnico Gold for distortion, clean and crunch:
Distortion:
Clean:
Crunch 1:
Crunch 2:
Celestion Alnico Gold
by 6StringWoodenFriend
Paul Riario of Guitar World Magazine puts the Gold through its paces in this very thorough run through of the speaker's tones under a range of playing conditions.
Find out more about SpeakerMix Pro and our range of Dynamic Speaker Responses – and add our newest DSR to your collection today