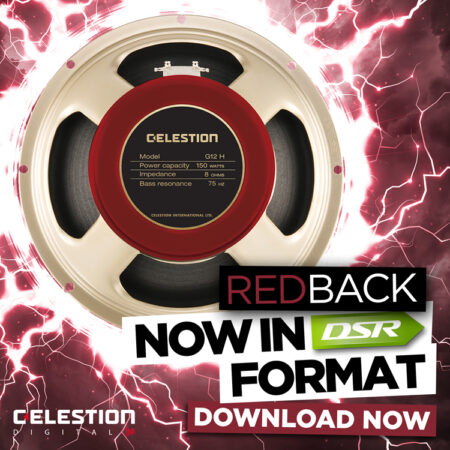 We're delighted to introduce a new speaker to our Dynamic Speaker Response range – the G12H-150 Redback.
Why the Redback?
One of the big advantages of using any speaker response is the ability to play loud but without disturbing the neighbours, your flatmates or anyone else who, for whatever reason, just isn't into listening to full on guitar riffs at the same time you want to play.
Want to have a spontaneous jam session at 1am in your bedroom?
Want to get in some guitar practice while the baby/grandma/dog is having a nap?
With speaker DSRs or IRs, a DAW or modelling software and some headphones, you can do just that.
This is true for all our speakers, but the G12H-150 Redback in particular has been built for power – and volume!
We're guessing that the players who are attracted to that level of power are the same people who are going to feel the most frustrated having to keep a lid on the noise when they've got the itch to play.
So, for our customers who like the idea of 'turning it up to 11' but don't have a venue where they can do that, the solution is our range of Redback speaker responses – digital versions of the original Redback speaker, recorded and engineered by our very own engineers for authentic Celestion tone.
Redback Tone
In the distant past, if you wanted to crank up the power you knew tone was going to suffer, but here at Celestion we don't like to compromise on tone – however loud it gets. That's why we created the Redback. It's designed to handle a meaty 150 watts – that's more than twice the power of the Creamback G12M-65, six times the Greenback G12M and an astonishing ten times the Celestion Blue.
So, what kind of tone can you expect from the Redback and its IR and DSR equivalents?
It's been designed to deliver tone that's clean and clear, to help your playing sound not just loud, but great. In the words of John Paice at Celestion, the Redback has "a warm, rolled-off top end" with "a big, stout…very tight bass end".
Of course, it's really hard to capture tone in words, so there are a couple of places you can go to listen to the Redback tone for yourself.
One great source is this YouTube video by Adam Steel at Hop Pole Studios, where he compares the Redback with the G12K-100, the Vintage 30 and the G12M Creamback. Even over some very average PC speakers the differences in tone are quite distinct, showing that not only does the Redback handle high gain very elegantly, but it also has a unique tone of its own.
Another place to listen is on the product page for the Redback impulse response. If you want to compare it with other speakers, listen to some speaker response samples for our other models.
Try Before You Buy
Because the Redback is still somewhat of a newcomer to the Celestion range, there will be many weighing up whether to buy and wondering how it actually sounds. For those who aren't sure, there has historically only been one way to get a feel for a speaker's tone before committing to a purchase – and that's to wait for other people to buy it and start talking about it.
However, downloading the DSR or IR version gives you a much more accurate way to assess the Redback. It allows you to evaluate the speaker with your own setup (your guitar, your amp, and of course your own style of playing) and get a realistic impression of the tonal range it offers.
Find out more about SpeakerMix Pro and our range of Dynamic Speaker Responses – and add our newest DSR to your collection today.
Find out more about the physical G12H-150 Redback here.