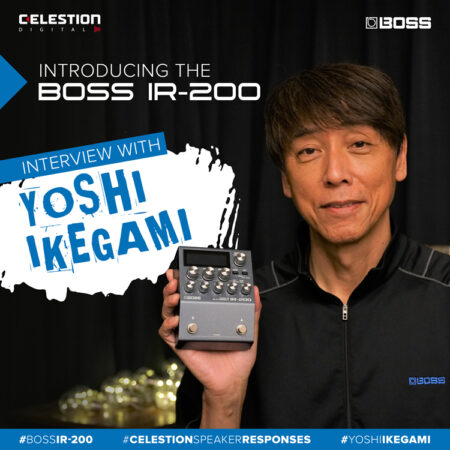 We recently had the opportunity to sit down with the president of BOSS, Yoshi Ikegami, to talk about BOSS' products and design ethos, his history at the company and the new BOSS IR-200, featuring built-in Celestion Impulse Responses.
To start us off, could you tell us a little bit about yourself and your role at BOSS?
I joined Roland in 1978, starting in the production division. A few years later, I then moved to Roland's R&D division, where I designed the SDE-3000 and so on. In 1990, I moved to BOSS R&D division, where I was then in charge of the DSP design. I was promoted to the director of BOSS in 1999 then became president of BOSS in 2002. I returned to Roland in 2007 and was the director in charge of the production division for 6 years. Since 2013, I have been back at BOSS as the president again.
Tell us about the new IR-200!
The IR-200 brings next-level performance to direct sound for guitar and bass, offering exceptional audio quality, premium amps and cabinet IRs, deep sound shaping, and instant sound recall with 128 memories. Eight guitar amps provide go-to platforms from classic clean, tweed, and class A to vintage and modern high-gain, while three bass amps offer rich, punchy sounds from clean to driven. The IR-200 has a large onboard preset library of cabinet IRs, with 144 BOSS IRs and 10 selected Celestion Digital IRs.
How was the idea for the IR-200 first conceived?
Recently, home recording and livestreaming have become commonplace and now a stage is no longer the only place to perform. The playing environment has become diverse due to the recent and ongoing situation around world. On the other hand, it's not realistic for musicians at home to do constant miking and switching amps with enough sound volume in a limited space. Having a wide variety of preamps and cabinet IRs, and versatile output options, the IR-200 offers an amp/IR solution for these players and is ideal for recording, live streaming and also performing on stage.
Would you say that it's a product that is easy for musicians to use?
It's intuitive enough – basic tone editing can be operated using only the panel knobs. The LCD display shows the parameters you are tweaking with the knobs, so that it's easy to understand how to operate it. In addition, 128 onboard user memories allow you to save and recall the settings, so that you can switch your amp tones with ease by foot control during a performance.
The product sounds great for both beginners and more advanced musicians. Do you have a customer profile in mind when you think about the customer base as a whole?
As you know, utilizing cabinet IRs is a common technique for advanced musicians, however it often requires high-spec equipment and there is no compact-sized equipment that meets the needs of professionals. To meet these needs, the IR-200 is designed for high-end IR reproducibility, with detailed editing capabilities and for stable sound in any output environment. We tried to design the IR-200's UI for simple operation, so that musicians can enjoy the benefits without special knowledge. The Surround feature reproduces natural and dimensional room ambience, giving immersive, spatial sound whether you're using monitors or headphones.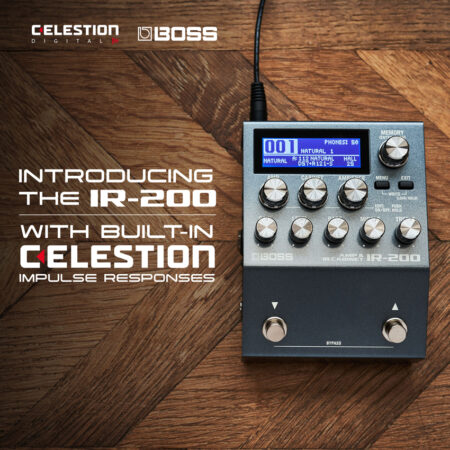 What do you think a new user of BOSS products and Celestion IRs would need to know to get started?
The important point for an IR loader is not only quality of IR data but also how accurate the IR loader can reproduce the characteristic of the data. Even if you're using the same IR data, the sound will differ depending on the performance of the IR loader. The big advantage of impulse responses is the ability to reproduce not only frequency response, but also phase characteristics, so both high-quality IR data and accurate processing in the IR pedal are required for good sound.
What are your key design objectives for products such as the Boss IR-200?
Our policy for the product design is that BOSS products should deliver new "sound" and "experience" to inspire the musician's creativity. For example, the IR-200 provides high-quality cabinet IR sound, which only hi-end equipment could realize in the past, so that wider players can enjoy the uncompromised sound creation with deep sound shaping for many purposes, such as integrating the IR-200 into a pedalboard for gigging or utilising it for recording at home.
What sets the IR-200 apart from other amp & cabinet simulation hardware on the market?
Backed by two powerful custom DSPs, the IR-200 provides exceptional IR performance with support for mono and stereo files, up to 32-bit floating point/96 kHz resolution, and up to 500ms length for natural bass response. With the IR-200 IR loader software, you can load in up to 128 mono or 64 stereo WAV IRs from your personal collection. There's also an effects loop connectivity, which can be placed before or after the cab IR section, complete with support for stereo effects and series/parallel operation.
Do you see the IR-200 sitting in a musician's rig solely in a live setting or practicing at home, or does it have an application when recording in the studio as well?
Supporting flexible output options, the IR-200 can cover all the applications. By integrating the IR-200 into your pedalboard, you can send independent signals to a stage amp and house PA via the two output jacks, or record tracks with DAW and re-amp sounds through the IR-200's amps and cab IRs. In addition, the headphones jack is useful for home practice.
What lead to the inclusion of Celestion Digital IRs in the product?
Celestion is a great speaker brand with almost 100 years of history and has contributed to countless music scenes with their unparalleled speaker sounds. There is no guitarist who doesn't know the name and Celestion is the most reliable speaker brand for guitarists. The cabinet IR data supplied by Celestion Digital is also of premium quality and we were convinced that the combination can bring the best out of musical expression for BOSS preamps.
Is there anything about Celestion Impulse Responses in particular that you have noticed in comparison to other IRs?
Firstly, we were surprised that Celestion IRs faithfully reproduce the iconic sound and response that we've imagined. Many other brands simulate Celestion speakers, but IRs from Celestion Digital are outstanding. Not only does their lineup include a wide variety of speaker types, including varying mic and cabinet options, but also the quality of every impulse response is amazing, so the combination with BOSS preamps gives a satisfactory tone immediately. The IR-200 is installed with a carefully selected range of Celestion IRs that match our preamps.
How can users import their own IRs into the IR-200?
With the IR-200 IR Loader software provided on boss.info for MacOS and Windows, you can load up to 128 mono or 64 stereo WAV IRs from your personal collection to the IR-200. The software also supports save backups for your IR-200 preset data.
How do you think the musical landscape has changed over the last few years, in terms of further pushing the digital side of guitar gear?
Previously, high-end equipment was only available in professional studios and stages. Now, these top-quality pieces of equipment are available in a much more affordable and more compact format thanks to evolution of digital technology. As a result, players can improve their production or sound quality much easier. The IR solution is one notable example. We've worked with digital effect processing since the early days and have experienced paradigm shifts that are driven by the evolution of digital technology. Actually, such paradigm shifts have advanced the development of music and we always look forward to listening to the new music brought about by the paradigm shift.
But, although the evolution of digital technology provides a lot of benefits easily, on the other hand you can also hear simple yet amazing guitar tones from old vinyl records! Analog or digital is not an argument of superiority or inferiority – the combination of understanding authentic sound when utilising digital gear can help you generate much more creativity.
Is there anything else you would like to add?
In addition to a wide variety of preamps and cabinet IRs, the IR-200 offers deep sound-shaping tools with flexible routing options, EQs and ambience effects. once you craft your tones, you can send them to a stage amp, house PA, computer recording system, headphones or all at once.
Please find your signature amp tone with the IR-200!
Find out more about the new BOSS IR-200
Browse Celestion Digital's range of iconic Speaker Responses