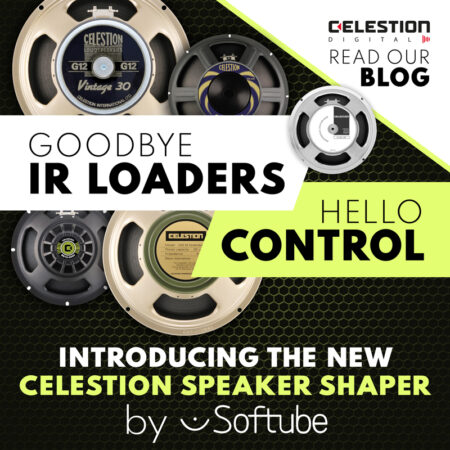 If you play an electric guitar or bass through a traditional amp and cab set-up, a large part of what you hear, along with your instrument, amplifier and any effects or pedals, is the sound of speakers. Celestion speakers have driven the sound of popular music for nearly a hundred years, originally in the real world of hardware, and now also in the virtual world of software emulation with both industry standard Impulse Responses and Celestion's unique Dynamic Speaker Response formats. Typically, the emulated world follows the innovation of the real world: new developments in materials and design lead to new speakers with their own characteristic sound, and then the software versions allow us the convenience to use them 'In the Box'.
In collaboration with Celestion, the Rock & Roll Scientists at Softube have turned that world on its head. The all new Softube Celestion Speaker Shaper allows us to take eleven classic Celestion speakers and to stretch (or shrink) them into never-before heard configurations; to age them, change the magnets, change the impedance, open or close the cabinets, distort them, blend mics, blend speakers, add room mics and eq them, all in the one workflow-friendly plugin.
A little bit of what you fancy…
Have you ever fancied a Vintage 30 Alnico in an open back 2×18 cabinet? With Celestion Speaker Shaper, you can have it. A combination Alnico Blue/Classic Lead 80 closed-back 4×8? Again, you can build it – in just a few moments.
Power and Grace
Celestion Speaker Shaper combines a simple and intuitive user interface with immense power to provide all of the classic tones we need as well as a huge variety of unique original sound signatures:
Eleven classic Celestion Speaker models: Vintage 30, G12T-75, G12K-100, G12M Greenback, G12M-65 Creamback, G12M Heritage, Classic Lead80, Celestion Blue, PULSE12, BL10-100X and BN10-200X
Speaker sizes between 8" and 24" for all models
Ferrite M, Ferrite H, AlNiCo and Neodymium magnets
Variable magnetic flux strength range
Variable speaker distortion
8- and 16-Ohm versions
New or aged versions
1, 2, 4, 6 and 8 speaker cabs, open or closed back
Three blendable channels per speaker each with a choice of Dynamic 57, Dynamic 7B, Dynamic 421, Dynamic 112, Condenser 87, Cond Condenser C414, Condenser 47 and Ribbon 121 mics
Variable room sound
Emulate and Create
As well as its obvious role of shaping fantastic guitar and bass tones, the unique blend of 'just right' authenticity and 'out there' creativity of Celestion Speaker Shaper makes it a powerful tool wherever a sprinkle of unique flavouring or even radical sound-design is required: vocals, synths, drum-buss – anything that can use touch of 'special' – sounds that we simply can't quite create any other way. Who knows, perhaps one day hardware will follow software and we'll see stages full of 8×24 speaker cabs!
Celestion Speaker Shaper is available as a native DAW plugin and also as a module of Softube's Amp Room plugin, providing a range of world-class software amps and effects and bringing pro-level authenticity and convenience to the software studio.
Find out more about the Celestion Speaker Shaper plugin from Softube