You told us you couldn't live without it, so we're bringing back the G12 EVH impulse response! If you've ever tried to recreate the distinctive Eddie Van Halen tone, your quest just got a whole lot easier – with the Celestion G12 EVH speaker impulse response.
Whether you're a home guitarist who loves sounding like the greats, or a professional musician looking for some extra dimension to your tone in the studio or live on stage, this is an IR you're going to want to add to your collection. So, how did the G12 EVH come into being, and what tones can you expect?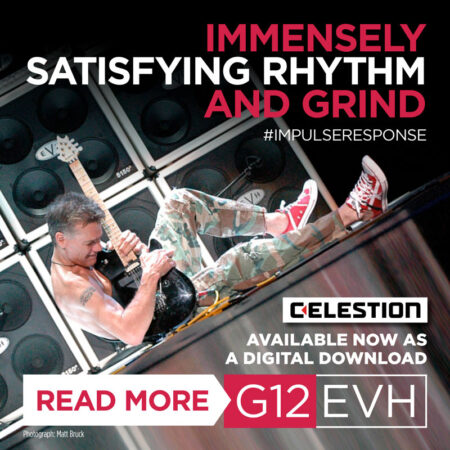 Celestion G12 EVH – Origins & Tone
EVH started on his musical career using vintage Celestion G12M Greenbacks. But as time went on, Eddie began to experiment with and customise many elements of his rig, leading to the creation of the EVH range of 5150-III amps and cabinets. One thing that didn't really change was his speaker choice: Ed chose the 20-watt Heritage Series G12M as the most faithful and familiar reproduction of his Greenback tone. And with the inclusion of a custom black rear can with the inimitable red, white and black stripes, the G12 EVH was created.
This makes the Celestion G12 EVH far more than a speaker with a celebrity signature on it – it's part of Eddie Van Halen's regular gear which he uses on tour and in the studio (see listening resources for a video of Eddie trying out the latest 5150-III). In an interview for Guitar World Magazine in 2017, he says: "They're made in the UK. The more that you use them, the better they sound. I've used those speakers for several tours now, and I've never blown a single one."
These speakers deliver the renowned EVH 'brown sound', characterised by warm lows, a lush midrange and an expressive and refined treble. Dig in hard and you'll be rewarded with searing lead lines as well as an immensely satisfying rhythm and grind.
But you don't have to be an Eddie Van Halen wannabe to appreciate what the Celestion EVH has to offer. This is a hugely versatile and responsive speaker which works well with a multitude of musical styles. Rhythm guitarists will get plenty of beef at the low and midrange, while lead guitarists will enjoy the articulate and expressive highs. And now the distinctive tones of the EVH speaker can be part of your sound, whether you're practising at home, creating recordings or performing live.
Celestion G12 EVH Speaker Impulse Response
The Celestion G12 EVH has been captured and crafted by some of the best sound engineers on the planet, to give you accurate EVH tone that's easy to replicate time after time.
The EVH 5150-III cabinet containing Celestion EVH speakers is available as a 1×12, 2×12 or 4×12 – and so is our G12 EVH impulse response. In fact, you can choose from 5 different cabinet options: 1×12 open back, 1×12 closed back, 2×12 open back, 2×12 closed back and 4×12 closed back.
Each cabinet has been sampled using three pro quality microphones (a Shure SM57, a Royer R-121 and a Sennheiser MD421) in six different positions – plus an additional rear position for open back cabs. We've also included room mic recordings (using a Neumann TLM 107), and we've created pre-mixes for microphone combinations (SM57+R121, R121+MD421, etc).
This gives you a wealth of tonal options to pick from, with minimal effort – but of course you are free to mix any of the available IRs with any other, or add your own EQ or effects to create your own sound.
This is an IR that's going to have strong appeal to any Celestion Greenback aficionados – there's plenty here that you'll recognise, but with a noticeable twist and some extra dimensionality and texture. We also expect it to be popular with customers who would typically go for a Vintage 30 to get the heft they need for a metal sound, but are ready to explore some alternatives.
The new G12 EVH Speaker Impulse Response is available for download here.
For best value, buy all five cabinets together for a significant discount. Alternatively, pick one or more EVH cabs and add some other speaker cabinets from our IR range to create your own customised Pick & Mix collection.
Listening Resources for the Celestion G12 EVH:
EVH (G12 EVH) – METAL Celestion Speaker Comparison
By Hop Pole Studios
Adam Steel puts the EVH through its paces, showcasing the speaker through a range of tones including rhythm, rhythm + lead, single string, solo and quad tracking.
Eddie Van Halen Plays VH classics in his home studio
By godlike51
The man himself talks about and plays the EVH 5150 IIIS containing four Celestion G12 EVH speakers.