SonicState, the online source for news and information relating to the world of electronic music, paid a visit to the Celestion stand at MESSE 2017 in Frankfurt last week, and interviewed our very own Ken Weller, Product Marketing Manager at Celestion UK.
As well as talking about the motivation for creating Celestion's current set of impulse responses, Ken also reveals (drum roll please) the next 3 speaker IRs to be added to the range over the coming months.
View the video here…
…or read on for a condensed version of the interview:
Ken: "Celestion has obviously been making loudspeakers with fantastic tone for many decades and we were very much aware of what was happening in the marketplace with digital products producing tone. It was something we were seeing our name attached to, so there were lots of other companies making impulse responses of our products, essentially.
"We listened to many of them and were weren't really that happy with what was going on in the marketplace. And we felt, as the purveyors of tone – not just hardware, but actually the tone itself – that it was our job to do it and do it properly.  So we spent a long time researching the various different methods that were available to get a really good impulse response, that we could listen to alongside the speaker itself and be convinced that it was a really good representation of the speaker.
"So we hired a really top quality studio, some good recording engineers, and spent a long time with mic positions and various different recording techniques, some of which are fairly well known and some of which I can't tell you about. But we're convinced now that we've got the best impulse responses on the marketplace and there's going to be a whole lot more to come – a whole lot of really interesting stuff that we can do."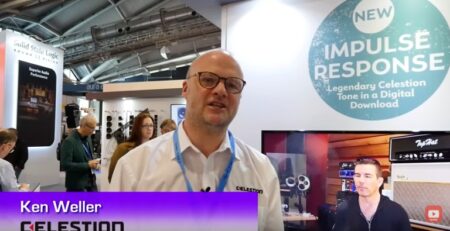 SonicState: "So which models did you impulse?"
Ken: "To start off with we did 7 of our most popular models. Things like the Vintage 30, the Greenback …and the Blue that most people are aware of.
"So some of the ones that are next on the list are the Neo Creamback, the Alnico Cream, and our new product, the high powered Redback.
"In time we will do our whole range. But it also leads us on to potentially many other opportunities to do all sorts of impulse responses of speakers that might actually be physically impossible for us to make in production. So there's some really exciting stuff potentially coming in the future."
SonicState: So how did you decide what cabinets to use?
Ken: "We actually made our own cabinets – we made generic cabinets, because different cabinets we know sound different whether they're MDF or ply or whatever the manufacturing technique is. We wanted to step away from that, so we simply made our own cabinets with the best quality materials that we knew would sound as neutral as possible and give the best flavour of the loudspeaker that was mounted in them.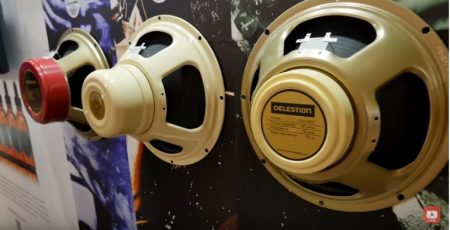 SonicState: "So you weren't trying to model a specific type of cabinet – you wanted to concentrate on the speaker itself?"
Ken: "Concentrating on the speaker, but also we did it in different environments, so there is a 1×12, a 2×12, a 4×12, in the normal configuration, and we spent some time miking up those in different ways depending on what the cabinet was.  For instance a 1×12 with a an open back with microphone at the back makes some very interesting sounds, and if you mix those with a 4×12 with the microphones at the front, you can get some really interesting tones – some things that are physically impossible to do in the real world."
See the current range of Celestion impulse responses here.
To be kept informed about the new additions to the IR range mentioned in this interview, sign up to our newsletter here.