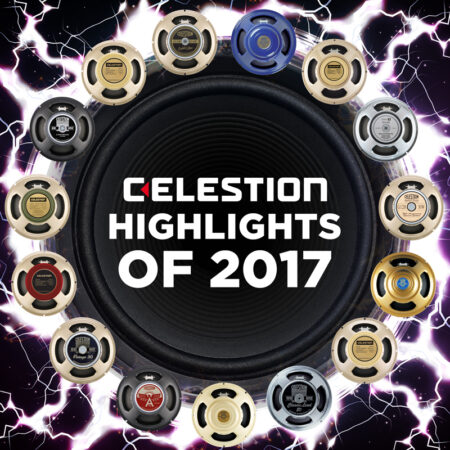 We've had an awesome year at Celestion, following the launch of CelestionPlus in January 2017 at NAMM California.
With musicians becoming increasingly keen to experiment and create their own mixes, we felt the time was right to offer our most iconic speakers as authentic impulse responses. The reaction has certainly shown there is a demand out there, with guitarists embracing our digital downloads to achieve exactly the tones and effects they are looking for.
Our initial offering featured IRs for 7 of our best known guitar speakers: G12M Greenback, G12M-65 Creamback, G12H-75 Creamback, G12H Anniversary, G12-65, Celestion Blue and Vintage 30, as well as a special free IR mix created for us by music producer legend Cenzo Townshend (you can still download that mix here).
Word about the new impulse responses spread rapidly via industry blogs and guitar forums and we started to get some great feedback about the accuracy of our IRs. Musicians were also soon discovering many other benefits, including how easy the IRs are to use, the ability to try a wide range of speakers, cleaner recordings and quicker set-up times.
Meanwhile, behind the scenes, Celestion engineers worked on new impulse responses to join the range.
At MESSE 2017 in April we gave a sneak preview of just three of the additions to the impulse response range to be launched over the coming months: the Redback, the Neo Creamback and the Alnico Cream.
Then in May, we expanded our range further, with the release of the G12H-150 Redback impulse response. This was followed throughout the summer with further releases including the Neo Creamback, Celestion A-Type and then the Alnico Cream.

During September, our 90th anniversary limited edition speaker, the G12-35XC, was released as an IR, making the tones of this hard-to-find speaker available to all.
This was followed by the Classic Lead 80 IR, known for its powerful articulation and punch designed to appeal especially to rock and metal lead and rhythm guitarists.
Then the famous G12-50GL Lynchback, specially designed for legendary guitarist George Lynch, was released as an impulse response in November.
Rounding the year off in style, we have just launched the Celestion Gold impulse response, bringing our product range from 7 to 15 in less than 12 months.
Feedback from Industry and Customers
Our impulse responses got serious attention from industry reviewers and some of our early-adopter customers started posting videos featuring their mixes, demonstrating not only the great tone, but also how easy it is to put together a great sounding track with limited equipment.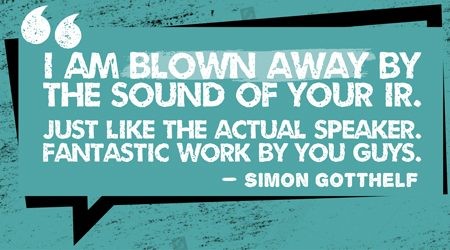 This inspired us to announce our first Celestion IR video competition in February – resulting in some truly impressive videos (see some of the best entries here).
Guitarists around the world have continued to post fantastic videos featuring Celestion IRs throughout the year, including some from Germany, the Netherlands, Spain, Indonesia and Japan – as well as the US and UK.
Masaki Murashita posted a great metal shootout video comparing the different tones available on the G12M Greenback 4×12 cabinet, and Adam Steele of Hop Pole Studios completed a video series showing how to use Celestion IRs for crunch, clean, classic rock and metal tones.
And Pete Thorn composed, recorded and mixed a new single in 48 hours using Celestion IRs and a HeadRush Pedalboard for the whole process.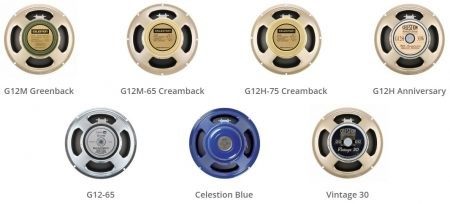 It was great to see that our IRs are not simply faithful digital alternatives to our physical speakers – these things look set to transform the way that guitarists work.
Guitar Interactive Magazine reviewed the CelestionPlus IR range in August and said that 'These impulses were clearly recorded to a very high standard with top quality equipment and engineering'.
We also teamed up with HeadRush to provide two special IR mixes to accompany their new Pedalboard amp modelling product.
Most Popular Speaker IR of 2017
The Vintage 30 has been far and away the most popular IR in our range, with the G12M Greenback coming in a close second – very much reflecting the popularity of the physical speakers themselves. Of course, some of our more recent releases, like the Classic Lead 80, the Lynchback and the Gold, have had less time to establish themselves – so we're interested to see what's popular this time next year.
Most Popular Cabinet Type of 2017
The bestselling cabinet type across all speakers was the 4×12 closed back. However, we're also seeing good sales of all the other cabinet types too – 1×12 and 2×12, closed and open – showing that there is no one single cab that will suit every guitar player, and each cabinet configuration has its own loyal following depending on playing style and musical genre.
What's interesting is that 4X12 physical speakers have declined in popularity due to their weight and size. Many Celestion users commented in a recent Facebook thread that they are too big and noisy to take to gigs, especially in smaller venues. But it is obvious this sound is still required, as the high sales of 4X12 IRs demonstrate. So this again emphasises how IRs complement physical speakers and provide additional options for guitar players that were not available before.
What's in Store for 2018?
In a nutshell – lots more impulse responses! We'll continue to work through our range of guitar speakers – with the G12T-75, G12K-100, V-Type and EVH all in our sights for the first half of 2018.
But as well as wanting to accurately replicate the physical speakers that our customers already know and love (because that's always going to be the bedrock of everything we do) we're also looking at how IR technology provides opportunities to innovate, experiment and create new tonal possibilities. If you thought 2017 was exciting for the world of IRs, 2018 promises to push the boundaries even further.
To keep up with all the new developments in 2018, sign up for our Offers & Updates here and be the first to hear about new releases and promotions.
You can also follow us on Facebook or Twitter.
Also if you haven't already seen it, we have a competition running over the Christmas period and into January to stimulate more creativity with mixing different IRs together to create amazing tones and effects that could not be created with physical speakers. See the full details here. You could win a pair of physical speakers of your choice (that have been used in your IR mix). This is a chance to show how creative you can be and what our IRs can do!
Let's just say there is a lot more in the pipeline for 2018. It's been an exciting, pioneering year – bringing authentic technically correct IRs to the world. Going forward we are planning many more innovations to enable musicians to get an even wider range of tones and effects in the future.
Finally, we'd like to express our gratitude to all the customers who have given us such great encouragement and feedback since the launch of CelestionPlus. It means a lot to us and we look forward to giving you even more legendary tone in 2018!