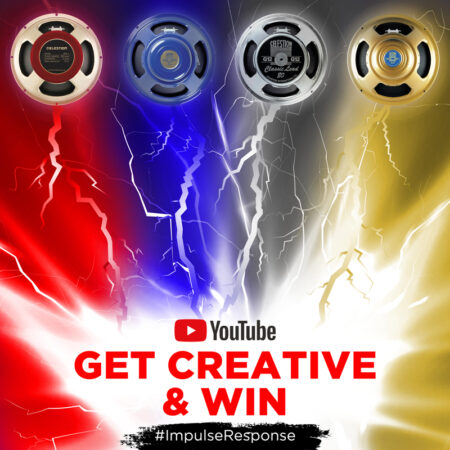 You now have longer to enter our exciting video contest – with some pretty awesome prizes to be won! The closing date has been extended to February 28.
So if you're looking for a creative musical project to focus on, this could be the perfect solution.
The Competition
Since we launched our authentic Celestion impulse responses way back in January 2017, the response has been amazing. Customers, including many professional guitarists, are loving the incredible realism that Celestion IRs can deliver, and many of you have uploaded some fantastic videos showcasing a range of different speaker IRs, as well as some brilliant guitar playing, of course.
Now we want to invite you to be even more creative and take using Celestion IRs to the next level – by mixing them to create great new tone variations that might not even be possible with a physical speaker-cab-microphone setup.
The Prizes
The winner will receive 2 physical Celestion speakers featured in their mix.
In addition, the top 5 entrants (the winner, plus 4 others) will also receive a special IR discount code which can be redeemed against one free IR collection of your choice on CelestionPlus.
What We Are Looking For
We are looking for two main things: innovation and great tone.
We want to see unusual or unexpected combinations of IRs that most other people wouldn't think of trying. There are two main types of mix you could try, with a few examples to explain what we mean:
Same Speaker Mix – Blending 2 or more IR files for the same speaker, combining different microphones and/or cabinet types:
Vintage 30 4×12 closed back Thin, Low Gain + Vintage 30 4×12 closed back Dark, High Gain
G12M Greenback 1×12 open back Thin + G12M Greenback 4×12 closed back Dark2
Multi Speaker Mix – Blending IRs for 2 or more speakers together, using any mic or cabinet:
Celestion Blue + Celestion Gold
G12M-65 Creamback + Classic Lead 80
These are just a few ideas, but there could be many other options we haven't thought of, so let your creativity run free and starting trying out some combinations on your DAW or amp modeller.
Whatever mix you come up with, it still needs to sound amazing – so can you create a new tone which is original and distinctive while still sounding great?
How to Enter
Here's how to enter our free competition:
Create a YouTube video which demonstrates one of the above forms of mixing/blending IRs.
The video should be at least 1 minute long but can be much longer if you want. Please include the phrases "Celestion IR Mix" or "Celestion Impulse Response Mix" in the title of the video.
The format of the video is up to you, but it may help to include a comparison of how your mix sounds compared to the individual IRs it is composed of. It would also be good to choose music that demonstrates the range of tones that your mix provides.
Tell us about your mix and how it was made:

Which Celestion IRs you used, with details of cab type, mics used etc.
What other kit was involved such as your guitar and your amp or DAW.
Optionally, tell us how you went about choosing this particular mix – what was your process and what do you like about it?
You can include this information in captions on the video itself, or in the description text under the video. Also state in the description text that it is an entry for the IR mix competition.
Upload your video to YouTube by Wednesday February 28.
Share your video on your own Facebook or Twitter account and tag Celestion (on Facebook, you will also need to like the Celestion page so we can contact you if you win!)
Enter as many times as you like – one video per entry. So if you come up with more than one mix you'd like to share with us, you can enter them all!
The competition will be judged soon after the closing date on February 28 and the winners will be announced soon after that date. The winner will be tagged on Facebook and/or Twitter and contacted by Facebook messenger.
Click here for full Terms and Conditions.