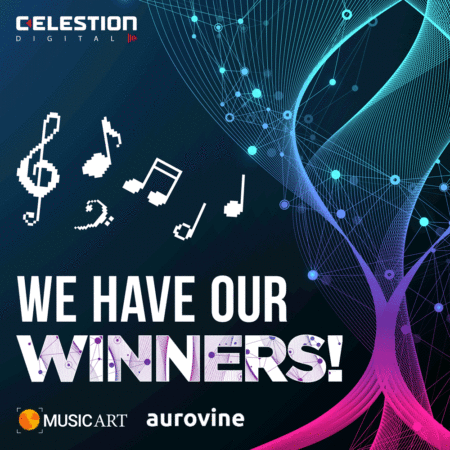 Back in July, we launched our Celestion NFT Art Competition as the starting point of an ongoing project to encourage and help musicians to explore ways to extend their brand and support their art – to create new opportunities to share their creativity with their fans, and to earn monetary rewards for their efforts.
Thank You!
Many thanks to everyone who entered the competition. NFTs are a fairly new topic and not yet fully understood in terms of their potential.
For artists and musicians, they are an exciting new asset to integrate into your marketing – especially when you embrace the utility aspect with a picture or animation (e.g. include free tickets to an event or a signed picture of your band when they buy from you).
So, on to the Winners!
All winners will be contacted within the next 10 days and will have the opportunity to have their works minted as NFTs and marketed by competition partners Aurovine and MusicArt.
Winners Category 1: Art
Heather Shatzer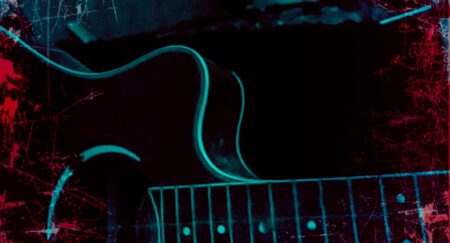 Heather's entry is a visceral and moody depiction of an acoustic guitar, complete with an unsettling UV effect and some glass crack/scratching around the edges. In this piece, it's almost as if you are staring into the window of a long-closed music shop, at a long-lost acoustic guitar…
Rebecca Tsien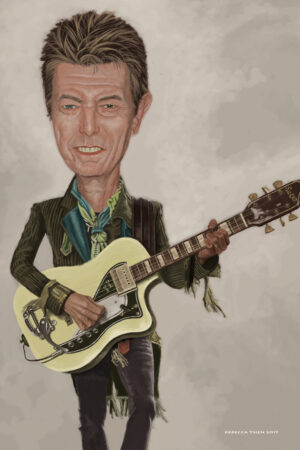 As can be seen in this entry depicting David Bowie, Rebecca Tsien as an artist specialises in caricatures and illustrations – not just extending to musicians, but other figures in popular culture such as athletes and actors.
Imelda Almqvist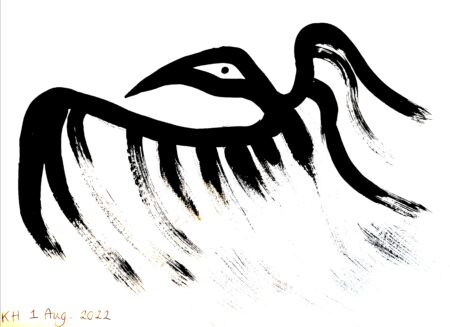 Imelda is an international teacher of Sacred Art and Seidr/Fornsed (Northern Tradition material, the ancestral teachings of Northern Europe). she divides her professional time between London, Sweden and the US. She is the author of three books, and provides shamanic and Sacred art training courses, one-to-one sessions and sacred art mentoring.
Winners Category 2: Music and Art
Pennyhill's Regret (Andrea)
Pennyhill's Regret is a multi-faceted musician, producer, and digital artist. His YouTube and social media channels have amassed over 100k+ subscribers with artwork, gear reviews and guitar industry insights.
Since 2020, Pennyhill's Regret has released 15 singles, ranging from post-rock progressive soundtracks to electronic music.
Ger de Bruijn
Ger is a Jewellery designer and goldsmith in daily life but has been involved in music since he was 8 years old.
After a hiatus of 15 years, due to busy professional activities, in recent years he has engaged in a wide range of different music styles.
This entry is inspired by a holiday in the Lake District and Scotland years ago, and these influences can also be heard in the accompanying song 'Highland'.
Jerry Francis
Jerry is a musician, the electric guitar being his preferred instrument.
In his free time, he plays, composes and records music using digital technology for his own amusement, although to do it professionally would be his ideal.
Jill Hodgson
Jill is an artist and interior designer. As an artist, she creates pictures in plaster, their creation similar to that of pargetting of old, additional depth and variation created through the multi-layering of glazes and paints.
Her body of work explores all subject matter from landscapes, figurative to abstract. More recently, she has been exploring different types of plasters and cement, creating 3D sculptures & Jewellery. She has exhibited successfully in East Anglia since 2000.
Diana Perkins
Diana's entry features an excerpt from the Valdvia X song 'JACKHAMMER MAN'.
Combining rock surrealism and performance art, Valdivia X is a theatrical post-punk goth-rock trio based in Long Beach, CA. Their performance includes stage props, costumes, makeup and is as visual as audial. Their music is laden with powerful statements about the world we live in, featuring male and female lead vocals and industrial-strength lead guitar.
Two Final Submissions to Demonstrate a Simple Way to Make NFTs Work with Your Existing Marketing Campaign
In our previous competition blog we showed an image created by Celestion contributor Andi Picker, initially a picture, then identified with a band logo, used as a background for a gig notification, and as a backdrop for a website landing page.
Starting with a great photo  (The NFT), it has then been developed into a full marketing campaign. Please see our previous blog for full details.
As another example, this video, 'Meo Divergent'.
was created by Rachel Meo Klint, part of the Celestion Digital team. It is a short film animation to explore ADHD. The inclusion of credits for Rachel and music collaborator Jean Stevens makes it also a calling-card for both artists:
To Conclude
Celestion has been at the core of the creative music community from the start and is committed to supporting it into the future.  Over the past few years the musical marketplace has seen so many changes in the opportunities available for working musicians to generate revenue that it can be difficult to keep-up with, especially when we're pouring our creativity into making actual music. This competition has been the first round of an ongoing series of discussions and opportunities to help musicians to explore ways to support themselves.
Thanks again for all of your creativity and we will be in touch shortly with the winners.