First new speaker IR out of the box for 2018 is… the Celestion G12T-75.
Also referred to by many as the Celestion T75, the latest speaker impulse response to join our range offers a combination of assertiveness and great clarity that will appeal to those looking for robust modern tone, as well as decades of heritage to its name.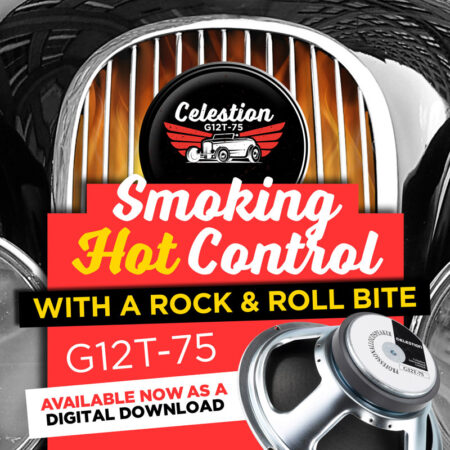 Celestion G12T-75 – Origins and Tone
The Celestion G12T-75 was originally conceived in the '80s, as a more powerful 'hot rodded' version of the G12M Greenback, ideally suited to the high gain amps that were becoming more common around that time.
It's hard to say whether the G12T-75 helped to influence the development of a more modern, industrial sound that characterised 80's metal, or whether it was the other way around; but either way, it has become firmly established in the Celestion firmament, proving itself to be far more than just a speaker of its time.
Its punchy low end, aggressive mids and balanced highs have been incorporated by successive generations of metal artists from the 80's through to today, such as Iron Maiden, Yngwie Malmsteen, Joe Satriani, Deftones, Slipknot, Shadows Fall, Mastodon and beyond.
If you want to get a feel for how the G12T-75 sounds, check out our Listening Resources section below.
As you might expect, the G12T-75 is much favoured among professional guitarists looking for a full-on, heavy but modern tone for metal or rock. Here are just a few Celestion Partners in Tone who specifically look to the G12T-75 to achieve their distinctive sounds:
Yngwie Malmsteen – "I like the Celestion G12T-75 speaker because it is very fluid and complements the violin-like tone and feel of my guitar playing."
Bill Kelliher of Mastodon
Jim Root of Slipknot
Joe Satriani
Dave Murray, Adrian Smith and Janick Gers of Iron Maiden
Glen Tipton of Judas Priest
Stephen Carpenter of Deftones
Jon Donais of Shadows Fall – "Celestion make the best hard rock heavy metal speakers on the planet. I wouldn't put anything else in my cabinets."
Celestion G12T-75 Speaker IR
The tone of the G12T-75 is now available to you as an impulse response, in 5 different cabinet options (1×12 closed and open back, 2×12 closed and open back, and 4×12 closed back) with 3 microphone options (Shure SM57, Royer R-121, Sennheiser MD421, and Neumann TLM 107 room mics).
Used primarily for heavy rock and modern metal, T75s are often combined within a 4×12 cabinet with other speakers, most often Vintage 30's or Greenbacks.
By adding the G12T-75 IR to your collection you can achieve a similar effect by mixing different speaker IRs to get the balance you want between warm vintage tone and something more primal.
Above all, the G12T-75 impulse response will appeal to anyone who enjoys mixing up their tone with a touch of the unconventional or rebellious. Enjoy on its own for some hardcore, high volume grunge (Malmsteen style) – or use it to complement the tone of one of your other favourite speakers for an unexpected tonal twist.
The new G12T-75 speaker IR is available for download here.
Alternatively, why not combine it with some of our other speaker tones and go for one of our new IR Pick & Mix options.
Listening Resources for  the G12T-75:
Celestion Vintage 30 vs G12T-75 Face-Off REMATCH!
By CelestionUK
Since Vintage 30's are one of the most popular speaker choices for a heavy rock guitarist, this video gives you a straight back to back comparison.
Celestion G12T-75,G12-65,V30,Greenback – Crunch
By Olivier de Geoffroy
Nice clear comparison video showing the G12T-75, Creamback G12M-65, Vintage 30 and G12M Greenback on a range of different types of riff including power chords, distortion, high gain and fast playing.
Yngwie Malmsteen – Far Beyond the Sun LIVE
By Official Yngwie Malmsteen
Some classic Yngwie from back in the day. Just because we can.