We are extremely proud to announce that the latest name in our Backline Heroes range of impulse responses is Orange Amps.
Celestion has teamed up with Orange to create an entirely new collection of impulse responses based on seven of Orange's best-selling cabinets featuring three of our most iconic speakers – the Vintage 30, the Neo Creamback and the monster G12K-100.
This latest addition to our Backline Heroes range is for guitarists, musicians and producers who want the combined tone of classic, high-quality Orange Amps speaker cabinets loaded with three of our best-selling speakers.
This new range of cabinet impulse responses means you can now quickly and efficiently replicate authentic Orange cabinet tone whether you're playing at home, recording in the studio or performing live on stage.
Why We Teamed up With Orange
Founded in London in 1968 by musician and electronics designer Clifford Cooper, Orange Amps have been cementing their place in music history for more than 50 years.
Clifford understood the rigours music equipment was subjected to on the road with touring musicians and ensured that durability was at the forefront of Orange's cabinet design. Orange's range of cabinets were constructed with sturdy 15 and 18mm birch plywood and featured thick basketweave grilleclothe, as well as the addition of two unique skid runners on their bases which improved low-end responsiveness by acoustically coupling the cabinets to the stage.
Orange's superior build-quality meant the cabs quickly became the go-to gear for rock legends, such as Led Zeppelin's Jimmy Page, Fleetwood Mac's Jeremy Spencer and John McVie, Grateful Dead's Bob Weir, as well as Jim Root and Noel Gallagher, to name but a few.
Orange's product list has grown and evolved over the last half century to include a huge range of amps, cabs, pedals and guitar and bass accessories. Now, Orange have teamed up with Celestion to create a stunning range of cabinet impulse responses that perfectly replicate the tone of Orange cabs loaded with Celestion speakers.
Orange Cabinet Impulse Responses
We've meticulously recorded a collection of brand new cabinet impulse responses for seven classic Orange cabs  – one 1×12 (closed back), three 2×12s (open and closed back) and three 4×12s (classic, angled and high-powered):
Orange PPC112 1×12 closed back
The Orange PPC112 1×12 is one of the most popular 1×12 cabinets on the market today. Its closed-back, 18mm birch plywood enclosure is slightly bigger than a conventional 1×12. This gives the PPC112 a greater internal volume for a fatter tone with excellent projection.
This closed back cabinet features a Celestion Vintage 30 delivers a warm low-end, a rich vocal mid-range and a beautifully detailed top-end.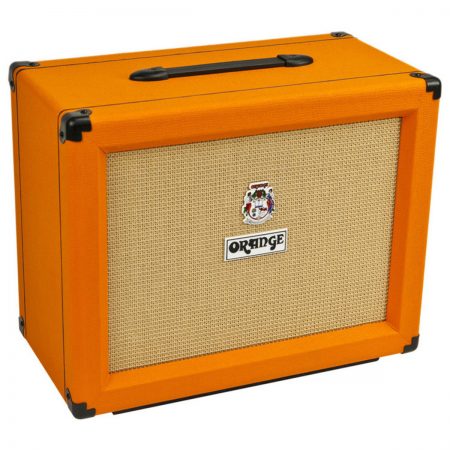 Orange PPC212OB 2×12 open back
Fitted with a pair of Celestion Vintage 30 speakers, the Orange PPC212OB's design accentuates the top end frequencies whilst softening the bass response. The split rear panel means the delivery is less directional, creating an airy, spacious and three-dimensional sound. The added presence and chime makes the PPC212OB especially suited for cleaner styles, or for players who want a more vintage combo-type tone from their amp head.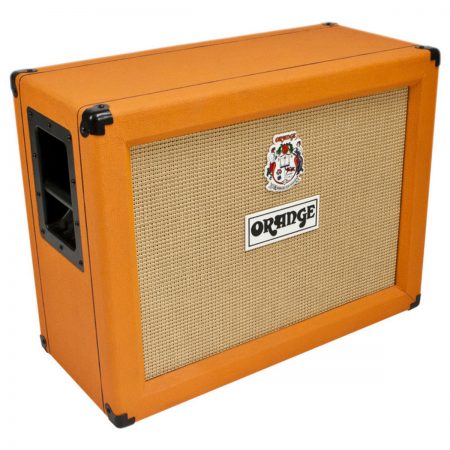 Orange PPC212 2×12 closed back
With formidable construction and a tight, unflappable sound, the Orange PPC212 2×12 is essentially a PPC412 cut in half, while retaining the fattest possible tone. Two Celestion Vintage 30 speakers features complex overtones, with a warm low-end, a rich vocal mid-range and a beautifully-detailed top-end.
Orange PP212V 2×12 open back
The PPC212V vertical 2×12 is constructed from 15mm Birch Plywood, making it light and compact. With Celestion Neo Creamback speakers – delivering low-end punch, a warm, vocal midrange and sweet, refined highs – and an open back construction, it retains the tonal excellence you would expect from an Orange cabinet.
Orange PPC412 4×12 classic
With formidable construction and a tight, unflappable sound, the Orange PPC412 has achieved near-legendary status in guitarist circles. This classic full-sized 'straight-front' 4×12 cabinet with the signature Orange delivery that has made it a mainstay of touring artists across the globe.
Built from high density, 13 ply 18mm Baltic birch plywood with unique skid feet design helps to acoustically couple our cabinets to the stage for a fuller bass response, whilst our signature paper grille cloth contributes to the unmistakable magic of the Orange 4×12. Housing four Celestion Vintage 30 speakers in a closed-back shell, the PPC412 exhibits a laser-focused tone that's full of warm midrange.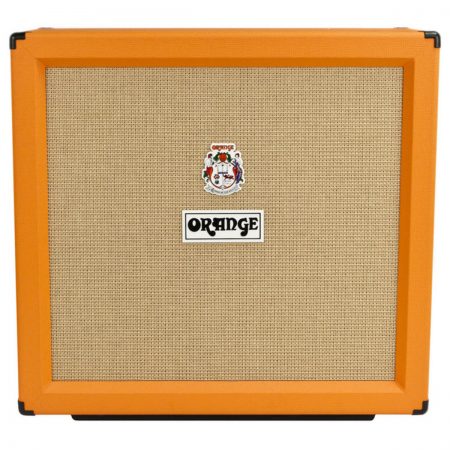 Orange PPC412AD 4×12 angled
The Orange PPC412AD is the angled-front version of the hugely popular PPC412 4×12 cabinet. With four Celestion Vintage 30 speakers, the slanted baffle produces rich mids and crisp, sparkling highs with outstanding vertical projection. These cabs conquer the problem of poor on-stage monitoring, whilst dispersing the sound in more directions than a conventional cabinet.
The PPC412AD shares the same constructional techniques and materials as the straight-front version; made from high density, 13 ply 18mm Baltic birch plywood with unique skid runners to acoustically couple the cabinets to the stage for a fuller low end response. It also features the signature paper grille cloth which contributes to the unmistakable magic of the Orange 4×12.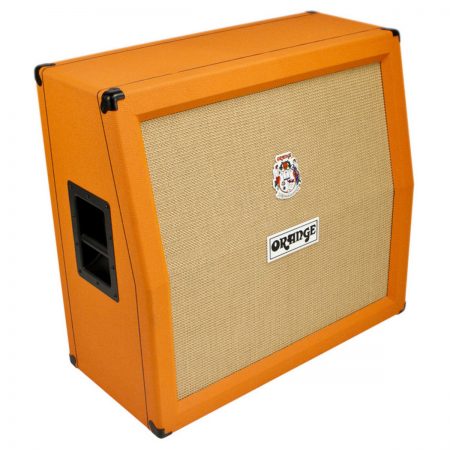 Orange PPC412HP8 4×12
The Orange PPC 412 HP8 4×12 High-Powered, Closed Back Speaker Cabinet features 4x 100 Watt Celestion G12K-100 Speakers, delivering its famous sledgehammer lows rock hard mid-range and restrained top-end.
Built using 13 ply high density 18mm Baltic Birch plywood, the PPC412HP8 offers massive low-end response with an incredibly tight tone. Your drop-tunings will never have sounded better! Loaded 4×12 into the Orange PPC412HP8 cab, Celestion's monster of rock, the G12K-100 delivers its famous sledgehammer lows with massive bottom-end, hard rock mid-range and restrained top-end.
The Techy Bit
This new collection of Orange cabinet impulse responses have been captured by our expert sound engineers in a state-of-the-art recording studio, using the same meticulous recording techniques as our previous IR collections.
These Orange IRs are downloaded in .WAV format and can be installed and used on the same huge range of DAWs or amp-modelling gear as existing Celestion IRs, meaning no additional knowledge is needed to use and enjoy them.
We have used the same range of professional, studio-quality microphones (Shure SM57, Royer R-121 and Sennheiser MD421) in the same six positions as our current range of IRs to offer the same options – Balanced, Bright, Thin, Fat, Dark and Dark 2, as well as an additional rear mic for the open back cabinets.
Each of these seven cabinet impulse response have also been recorded using Neumann TLM 107 room mics (Left, Right and Stereo) for you to mix in as much of your desired tone as required. You also have the options of choosing sample rate and sample length (200ms or 500ms).
This range of seven exclusive Orange cabinet IRs are available for download separately, or as a collection with up to 50% discount. Explore and download the new range now!
Be the first to find out about new IR releases, product updates, freebies, news and special offers by subscribing to our newsletter.