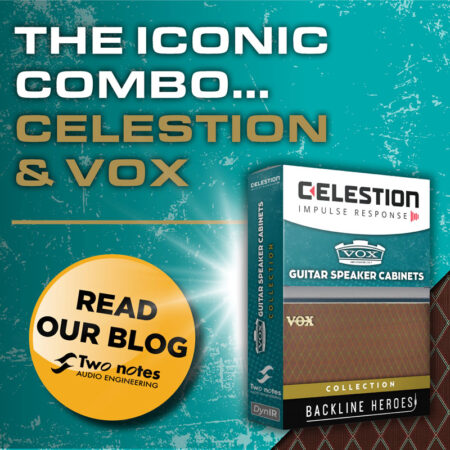 Our Backline Heroes range has grown again! We're excited to reveal the newest name in our now-legendary line-up is iconic British cabinet and amp company, VOX Amps!
We teamed up with VOX Amps to record a completely new collection of cabinet impulse responses based on recordings of three classic VOX cabinets loaded up with some of the most-cherished Celestion speakers: G12M Greenbacks and Alnico Blues.
This new VOX collection provides the perfect place for guitarists and musicians who want that gorgeous combined tone of VOX cabinets and Celestion speakers and to be able to quickly and accurately replicate that authentic VOX tone at home, in the studio or live on stage. The collection is now also available in Two notes format.
The Rise of Rock 'n' Roll
VOX Amps first found its feet in the late 1950s when a young amplifier designer called Dick Denney began working for JMI Corporation on creating an amp that could offer the volume and sustain that the guitarists of the time were craving. The result of this work was an amp dubbed the AC1/15 (later shortened to the AC15). This amp marked the very first appearance of the name VOX on a guitar amplifier – and thus began an institution that has thrived for over 60 years.
With Rock 'n' Roll on the rise, Dick Denney and his VOX crew quickly recognized that London's up and coming bands wanted more power from their amps. Instead of designing a new amplifier from scratch, Denney simply doubled the power of the AC15 by expanding the dimensions of the amp's cabinet and adding an additional speaker.
The AC30/4 was born – and now boasting two Celestion speakers, 30 Watts of power, four inputs and two channels – the AC30/4 became an instant hit amongst London's Rock 'n' Rollers and cemented VOX as one of the most desirable amp manufacturers in the country!
In July of 1962, two young lads from Liverpool got their hands on their first VOX AC15 Twin and a Top Boost-equipped AC30 Twin. Later that year, those same lads emerged from the studio with a song called 'Love Me Do' which would change popular music forever. The unforgettable sound of their jangling guitars would set the standard of great guitar tone for decades to come. This song (and the frenzy that followed) put VOX firmly on the map and resulted in them becoming one of the most sought-after guitar amplifier companies in the world.
VOX's huge early success in the '60s laid the foundation for the legacy that continues to thrive 60 years after their foundation – and many of the same amps that artists relied on for their sound back in the early days are still going strong today amongst guitarists seeking that classic VOX chime.
Celestion & VOX – The Perfect Combination!
Now, VOX have teamed up with Celestion to create a stunning new range of cabinet impulse responses that perfectly replicate the tone of VOX cabinets loaded with Celestion speakers:
VOX V212C 2×12 open back containing two Celestion G12M Greenbacks
VOX 212HWX 2×12 open back containing two Celestion Blues
VOX V412BN 4×12 closed back containing four Celestion G12M Greenbacks
This new addition of VOX cabinets impulse responses to our Backline Heroes range was methodically captured by our expert sound engineers in a world-class environment using the same meticulous recording techniques we use when capturing our other best-selling cabinet impulse response collections.
Download Today!
This new range of VOX IRs are available for download in .WAV format (to be used on the majority of amp-modellers and DAWS) and Two notes format.
We've recorded these three VOX cabinets with the same range of professional, studio-quality microphones (Shure SM57, Royer R-121 and Sennheiser MD421) in the same six positions as our current range of IRs to offer the same options – Balanced, Bright, Thin, Fat, Dark and Dark 2, as well as an additional rear mic for the open back cabinets.
Each of these seven cabinet impulse responses have also been recorded using Neumann TLM 107 room mics (Left, Right and Stereo) for you to mix in as much of your desired tone as required. You also have the options of choosing sample rate and sample length (200ms or 500ms).
For our Two notes IRs, each cabinet in the pack was recorded with eight fully adjustable microphones, giving the user the ability to move each mic around the specified cabinet in the virtual room. This provides an almost unlimited number of IR options on offer with the Two notes-compatible files. Each IR is compatible with the Overload Parameter, available in Wall of Sound and Torpedo Studio.
Download each VOX cabinet individually – or as a collection with a saving of up to 40%!
Explore our Backline Heroes and download the new VOX range now in .WAV or Two notes format!
Check out this great BBC documentary detailing VOX's rise to iconic status following Dick Denney's huge success with the AC30 amp: