Kemper recently launched version 5.5.2 of its operating system for its popular amp simulator product, Kemper Profiler. Users of the Profiler have always been able to upload Celestion IRs to it right from the beginning (watch our video about this from May last year), however, with the OS 5.5.2, you now get a selection of 18 Celestion impulse responses bundled in for free!
The Celestion IRs included with this update are: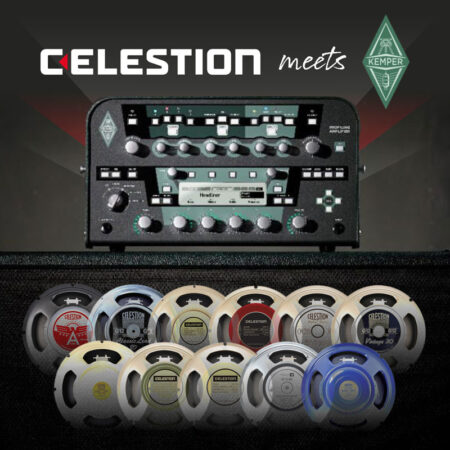 A-Type 112 C R-121 Dark 2
Celestion Blue 112 O MD421 Bright
Celestion Cream 212 O MD421 Balanced
Cenzo Celestion V30 Mix
Classic Lead 80 212 O MD421 Dark 2
Creamback H 1×12 High Gain Mix
Creamback M 1×12 High Gain Mix
G12-35XC 112 O R-121 Balanced
G12-35XC 412 C SM57 Dark 2
G12-65 212 C SM57 Dark 2
G12-65 412 C TLM 107 Room Stereo
G12H Anniversary 112 O SM57 Rear
G12H Redback 212 C MD421 Bright
G12H Redback 212 C MD421 Fat
G12M Creamback 112 O R-121 Bright
G12M Greenback 212 O R-121 Balanced
Neo Creamback 212 O SM57 Dark 2
Vintage 30 112 C SM57 Balanced
Additional IRs that can be used with the Kemper Profiler (after conversion with the Cab Maker software), and a wide range of other amp simulators / DAWs can be purchased from our shop – browse and buy Celestion impulse responses here.
Additional Update Features
The Profiler OS 5.5.2 update also has several other powerful key features, including supporting an increased number of sample rates, cabdriver in stereo, UI2MIDI and the ability to switch from Latch to Momentary on the Effects Buttons without the need for a dedicated configuration. The 5.5.2 operating system is free to all Kemper users and can be downloaded directly from their website.
This new update has proven that Celestion IRs continue to be seen as must-have software for any guitarist working digitally and looking for authentic and easy-to-use guitar tone. Celestion IRs are provided with HeadRush Pedalboard in the form of two free mixes and as part of the Elite package for Positive Grid BIAS AMP 2.